16 Items Of Clothing EVERY 00's Girl Has Worn At Least Once
6 January 2017, 20:38 | Updated: 8 May 2017, 17:09
If you didn't have at least one item of camouflage, did you even exist?
The 00's - what a decade. Incredible movies, incredible music. But what really made an impact was the fashion and we guarantee that every single item on this list will make you feel things. In fact, for every item you check off this list, you get 10 points. At the end, we'll see just who nailed the 00's aesthetic the hardest. Are you ready? Go!
1) Waistcoats
Disney Channel / via giphy.com
Listen honey, an outfit was NEVER complete without a waistcoat. In fact, if you ever had to go "out out" as a teen, you rarely left the house without a waistcoat over the top of your basic tee. Bonus points if you ever wore a sequinned bolero ala Sharpay Evans.

2) Beat up pink Converse
iStock
Were you even a true Alt girl in the 00's if you didn't own a pair of Pink converse with at least ONE doodle or song lyric written on the canvas?

3) Striped knee high socks.

via sandysshop.storeenvy.com
You picked these up from Claire's Accessories during your ~emo phase~ around 2007 and wore them almost every weekend. And they had to be either monochrome or black and pink/purple, of course.

4) A matching tracksuit.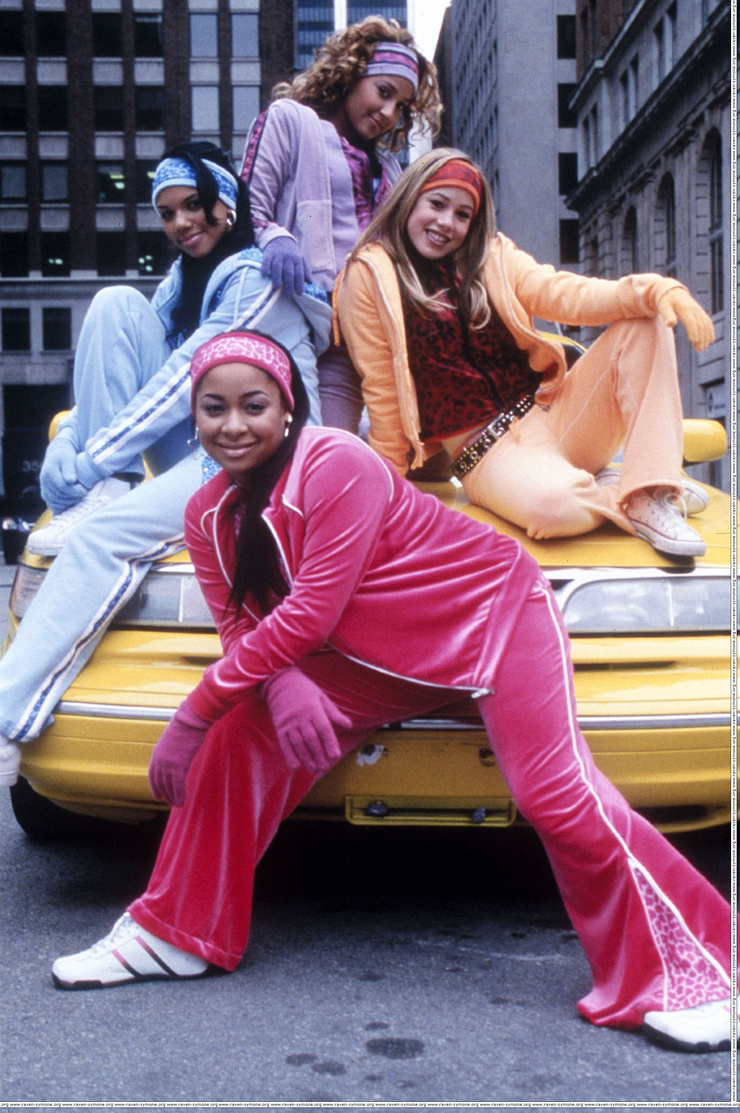 Disney Channel / via pinterest.com
Made famous by the Paris and Nicole obsession that swept the world around 2004, immortalised in pop culture history forevermore. We never did manage to save enough money to splash out on an iconic Juicy Couture tracksuit. *sigh*

5) Trucker Caps
via amazon.com
IF IT WASN'T A FAKE VON DUTCH TRUCKER CAP, THEN IT DIDN'T COUNT.

6) A tie, that was NEVER worn properly.
via giphy.com
If there's one thing that we can give Avril Lavigne full credit for, it's teaching us how to wear a tie properly. Add an extra 10 points if you ever wore a tie as a belt or a headband.

7) A god damn Fedora.
via Claire's Accessories
An absolute STAPLE for any and every girl attending their first school disco. Whether you were a girly girl or a tomboy, we could all agree that the Fedora was a universal language that we could all understand.

8) An abundance of slogan t-shirts.
via dogsanddresses.com
Can someone tell Forever 21 to stop trying to make the slogan t-shirt trend happen again? It's not going to happen again - regardless of the fact that you took part in the attempted renaissance with that 'GEEK' t-shirt that you rinsed in the summer of '09.

9) Mini skirts - ruffled, pleated, tartan... you name it. Paramount / via pinterest.com
We literally don't have enough fingers to count how many mini skirts we had in our wardrobe as a teen. All to be paired with a pair of black tights and Converse of course.

10) At least one Pringle sweater.
FOX / via pinterest.com
Ooohh, what an iconic look. No matter how much you try to deny it, EVERYONE went through a preppy Ivy League phase during their teens. Polo shirts were the main culprit but a Pringle Sweater? That was pure glamour.

11) And at least one item of camouflage.
via pinterest.com
Add an extra ten points to your final total for every item of camo you can remember owning. Camo t-shirt, camo cargo shorts, camo cargo trousers... Oh, and don't forget the edgy camouflage underwear either.

12) Some kind of fishnet garment.

via indulgy.com
We're preeeeeeeetty sure that alt girls of the 00's literally put fishing nets on the map.

13) A cropped halter top.
via pinterest.com
Because what else are the fancy girls going to wear to the god damn school disco? A DRESS?! HA! No. A handkerchief halter top and some low rise jeans, that's what.

14) Belts that literally served no function other than to contribute to your aesthetic.
via VANs
Circle belts, metallic woven belts, studded belts... always a look, always a pleasure.

15) An Abercrombie hoodie.
via Abercrombie
Having an Abercrombie hoodie was the ultimate status symbol back in the day. You wouldn't be caught dead in one now though, but you'll make an exception if that boy you fancy has one lying around of course.

16) CARGO PANTS!
via ebay.com
BRING BACK THE CARGO PANT!
What was your total 00's fashion score? Let us know in the comments!
Disney Channel / via giphy.com