18 "AHS" Halloween Costumes That'll Help You Murder The Competition
5 October 2016, 15:41 | Updated: 8 May 2017, 17:09
There can only be one Supreme...
Finding the perfect halloween outfit can be the most stressful thing you'll do all year. Yeah, that's right, more stressful than revising for all those end of year exams. It's a serious time of year, is ol' Halloween. Luckily for you, we've been scouring the internet to bring you the finest, spookiest inspirations for all your costume needs.
And today, the category is... American Horror Story realness!

1) Tate Langdon from Murder House
via shredingercat.tumblr.com
What is a Halloween without a little skeleton face paint? Ditch the fake gun though, you're gonna need both hands for all those eggs you're gonna be throwing at your rival trick or treaters.

2) Tate and Violet from Murder House
Calling all couples: we've found you the perfect spooky couple fancy dress. Thank us later!


3) The scary nun from the Asylum promos
via cool-and-calm.tumblr.com
If you wanna go FULL spook this Halloween, nothing would be scarier than seeing this stood perfectly still on the street or in the middle of a dance floor at a house party.

4) Sister Mary Eunice from Asylum
Put the all black contact lenses in when the clock strikes midnight for full effect.

5) Fiona Goode from Coven

via nerdbutpro.deviantart.com
THE SUPREME!


6) Misty Day from Coven
MISTTYYYYYYYYYY!
7) Actual Coven Squad Goals
via pinterest.com
Squad goals on FLEEEEEEEK.

8) Myrtle Snow from Coven
Stay away from fire and keep your Balenciaga tote bags close to your person at times.

9) Papa Legba from Coven
via iwuzlykedamn.tumblr.com
HOLY SH*T WHAT KIND OF HALLOWEEN GOALS?!

10) Madison Montgomery from Coven
Ugh, why is Coven so good at providing the most iconic - and simplest - costumes for Halloween? Surprise bitch, I'll see you on the dance floor wearing this outfit.

11) Twisty The Clown from Freak Show
via idantheman.tumblr.com
Ok, if I saw this one a night out I would run home and never leave the house again.


12) Bette and Dot with Twisty from Freak Show
via pinterest.com
If you're ok with tilting your head to the side all night, then this one is DEFINITELY for you!

13) Dandy Mott from Freak Show
via santeremil.tumblr.com
Ok, so technically all you need for this outfit is a crappy clown suit and a Twisty the Clown face mask. Sorted!

14) Ethel the Bearded Lady from Freak Show
via saltlakecomiccon.tumblr.com
We are not worthy of this cosplay. Wow.

15) Hypodermic Sally from Hotel
via fashionblygeek.com
Give. me. that. leopard. print. coat. now.


16) The Countess from Hotel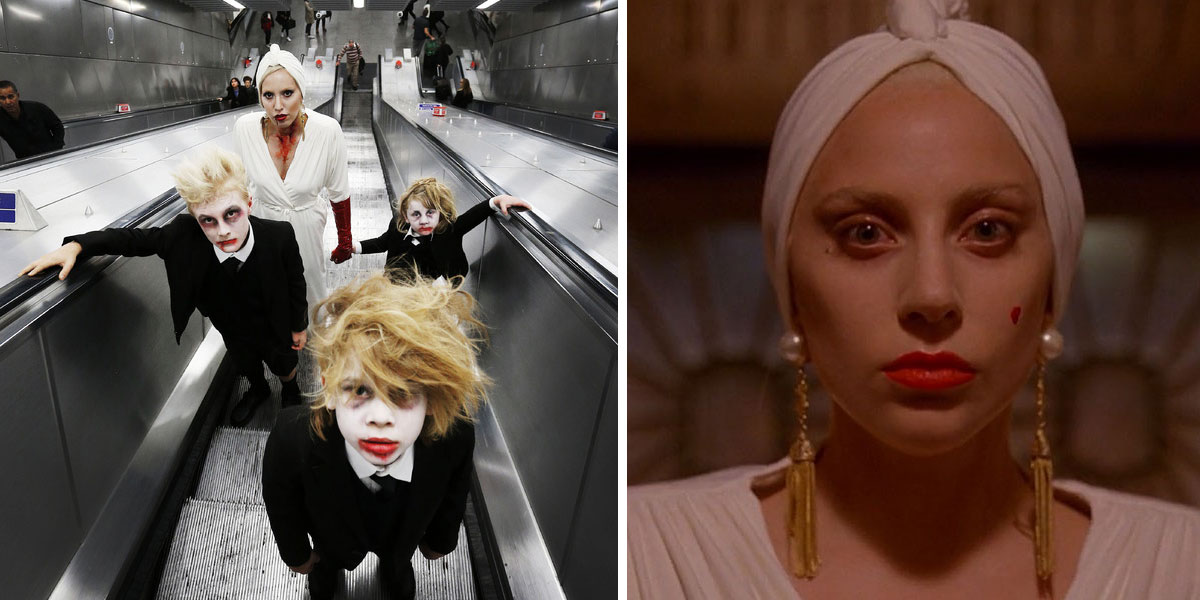 via gagadaily.com
Things you'll need: Fake blood, one bedazzled glove and three children willing to play along with the madness.

17) The actual kids from Hotel
Actually, you can just be the creepy kids yourselves. That way, the squad will 100% get away with doing a spot of trick or treating.

18) Or, you know... if you can't be bothered to put in any effort, there's always this:
via pinterest.com
Header image via shredingercat/cool-and-calm/Renee Cole via theladygagaexperience.com


Listen to this week's #PopBuzzPodcast featuring Joe Sugg right here on Soundcloud, or you can download it straight from iTunes, Audioboom or TuneIn.