11 American Horror Story Tattoos That Will Send You To The Asylum
19 August 2016, 13:09 | Updated: 8 May 2017, 17:09
This incredible AHS ink is so good it will keep you up at night.
While we wait for the imminent return of American Horror Story (hopefully with a theme of some description but who knows at the minute), there are other ways we can show our love for Ryan Murphy's scary TV opus.
And what's the best way to show your AHS love? Get a tattoo of course!
Trouble is some of these tattoos are genuinely petrifying! Let's round up a few of our faves.
1) Snake tongue!
Rumitattoo, Instagram
Why not keep that iconic Coven poster on your body at all times?
2) Sister Jude.
@Sirris.Slay
Tbf, who doesn't want a tattoo of Jessica Lange?
3) Twisty The Clown.
Steve Pelky
I mean...it looks awesome but it is horrifying!
4) Skeleton Evan!
@nickherringtontattoo
The teeth alone are enough to send chills down your spine.
5) Twins.
@rocknrollatattoostudio
Pretty punk rock tbh.
6) Twisty The Clown...Again.
@seunghyunjotattoos
Like a giant Jack O'Lantern on your arm.
7) Creepy Monkey.
@drutattoo
Never forget the intro to Freak Show. Long live the creepy monkey!
8) Freak Show Entrance.
Tattoo.com
No trespassers.
9) Yet Another Twisty The Clown.
Tattoo.com
The blue teeth alone are the stuff of nightmares.
10) Lizard Girl.
Amazon
Ok, so technically this isn't a real tattoo. But it does look awesome. Get the look with tattoo paper from Amazon.
11) One Final Twisty The Clown.
Tumblr, Wes Hawkins
Because you didn't need to sleep tonight right?
You got any more faves? Let us know below.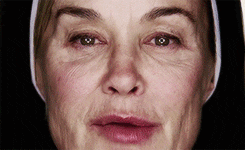 horrorstorygifs.tumblr.com