13 Genius Kids Who Are Already Slaying Halloween Harder Than You
11 October 2016, 16:18 | Updated: 8 May 2017, 17:09
Babies - 1... You - 0
The night of Halloween is fast approaching and you still haven't got a costume, have you? Well, you better get a move on because while you've been sleeping, the children of the world have been dominating the fancy dress world.
So here's a bunch of pictures of some babies that will strike fear into the hearts of all you grown Halloween lovers. Time to step it up!
1) Twenty One Pilots
via tauriice.tumblr.com
First of all, this is AMAZING! Second of all, there's no way we could begin to even think about pulling off a TOP look this good. Children, you win this round. *shakes fist*
2) Old Lady Realness
via imgur.com
Oh look, this baby has come dressed as me on the weekends. How dare she!
3) Jesse and Walt from Breaking Bad
via tumblr.com
Halloween costume checklist: Bald cap - CHECK. Fake beard - CHECK. Sassy best friend - CHECK. Candy bag - CHECK. Completely inappropriate outfit for two children under the age of 18 - CHECK. So iconic.
4) Eleven from Stranger Things

So they say that Eleven is due to be the biggest Halloween costume this year but will you be able to pull it off better than this tiny tiny sleeping baby? Probably not.
5) Joyce from Stranger Things

Why is this baby so good at Stranger Things cosplay? She does Joyce Byers better than Winona Ryder! (And you, obvz.)
6) Barb from Stranger Things

We just put this one in because we missed Barb. RIP.
7) Holtzmann from Ghostbusters
@paulfeig My tiny Holtzmann is pretty excited to rock her favorite Ghostbuster for Halloween...and every day until then too! pic.twitter.com/JAgRfiTNOm

— Lindsay Sherman (@LindsayWSherman) October 10, 2016
This child has already won Halloween. You can all go home and go to bed now. Ok. Thank you.
8) Bernie, Trump and Hillary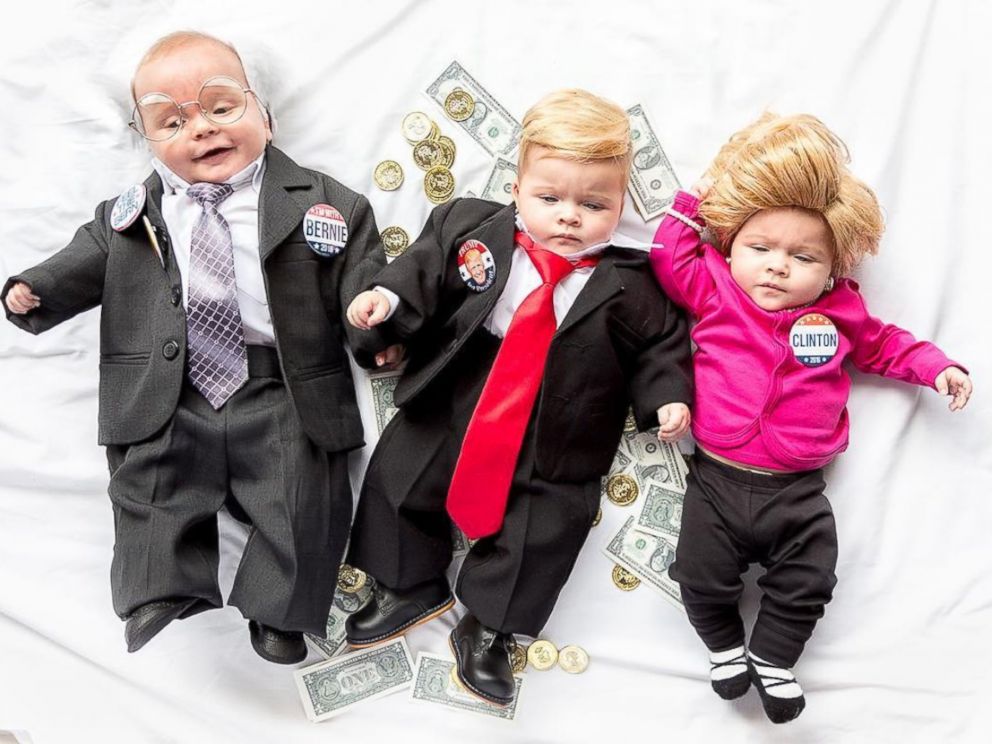 via abcnews.com / The House That Lars Built
The scariest thing you'll see on the streets this October. Except cuter, because they're babies and they're better at it than you.
9) Jigsaw from Saw via pinterest.com
The commitment to this costume is terrifying. Well done, child.
10) Edward Scissorhands
via boredpanda.com
ARE *claps* YOU *claps* KIDDING *claps* ME?!
11) Sadness from Inside Out

If you tried to wear this look, there would blue face paint all over that white sweater within thirty seconds. You couldn't handle it.
12) Twisty and Ma Petite from American Horror Story: Freak Show

*slow claps*
13) Chucky The Doll

*runs*
Watch your backs, because these children will be stealing candy off you on Halloween night!
via giphy.com
___ ___ ___ ___ ___
Listen to this week's #PopBuzzPodcast featuring YouTube legend Joe Sugg right here on Soundcloud, or download it straight from iTunes, Audioboom or TuneIn.