5 Of The Best Bluetooth Wireless Headphones Under £25
8 September 2016, 09:55 | Updated: 8 May 2017, 17:09
Cheap and cheerful options for wire-free listening because you ain't got Apple money.
It's official - Apple have killed off the AUX chord as the next iPhone will require wireless headphones.
Yep, soon we will all look as smooth as Taylor Swift flying off a treadmill at full speed with her wireless headphones as she jams along to "Jumpman". Or, ya know, "Run Away With Me"...
It never gets old.
BUT, sadly, not all of us have that sweet Apple commercial money at our easy disposal. So, we thought we'd put a together a quick list of 5 pairs of similarly awesome wireless headphones that you can actually afford to purchase. Let's take a look at your best options.
1) Mpow Wolverine Wireless Bluetooth 4.1 Sport Headphones (Amazon, £12.99)
Amazon
This set comes with 3 different sizes of ear buds and 2 different sizes of ear hooks so you find the perfect fit for you. Plus they are now "softer and stickier" which sounds disgusting but is probably very comfy. And we are told by a reliable source that they even survived a run through the washing machine (but that isn't recommended!).
2) Vansky Streamline Series Bluetooth Headset Noise Cancelling Headphones (Amazon, £10.99)
Amazon
These are "gym sweat-proof" so even if you do fall off the treadmill, you'll be doing it while listening to great tunes unaffected by your increasingly wet ear-area. These also claim to be "60% smaller and more lightweight than the competition models". So there you go.
3) Spigen [v4.1]Wireless Headphones with Microphone Sports/Running/Exercise Wireless Bluetooth Earbuds (Amazon, £19.99)
Amazon
Those nifty looking shortcut functions are the big sell on this model, the slick design making it easy to switch tracks or answer a phone call via the built in mic.
4) RUMIX, Noise Cancelling, Sweatproof Wireless Earphones (Amazon, £21.00)
Amazon
Everything is blue/his pills/his hands/his wireless headphones.
5) TaoTronics Bluetooth 4.1 Wireless Stereo Sports Headphone (Amazon, £22.99)
Amazon
Check out that sleek "behind the ear" design! Plus it's got 10 hours of continuous audio thanks to its boosted battery life.
Happy wire-free listening everybody!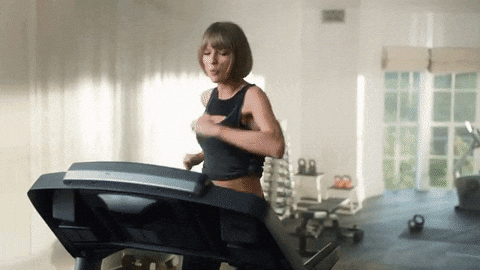 YouTube