Brendon On A Budget: Panic! At The Disco Style Guide
15 January 2016, 15:06 | Updated: 8 May 2017, 17:09
Fashion tips time.
You've heard the album and, presumably, love it and already know all the lyrics. Now, you wait impatiently for the tour dates to begin. So how to pass the time until Panic! hit your hometown? How about by picking out the ideal outfit for any PATD! show - that's right, it's time to get the Brendon look on a budget with our Panic! At The Disco style guide. Take note fashionistas, this is how it's done.
1) Jacket
When it comes to jackets, the shinier the better. Brendon tends to go for custom made, tailored suit jackets with some kind of brightly coloured sequin. But, we are on a budget, so just go to your local thrift store, pick up the first sports coat you find, smother it in superglue then locate a disco-style mirrorball and smash the sh*t out of it. The splatter should coat the coat nicely.
2) Trousers
These need to be tight. Like really tight. Like, "OMG I can't breathe" tight. Like "I need to go to hospital because I'm not sure I can have children anymore" tight. Alternatively, for the real skin-tight look, just shave your legs and paint them blue. It'll look the same.
3) Shirt
To get the Brendon Urie shirt look simply buy a shirt and burn it.
4) Hair
Slick it back and make it stay. We need to see as much of that glorious forehead as possible. Gel will do or, if not available, a standard pritt stick.
For an added extra, why not keep your 3D glasses next time you go to the movies?
flickr
And there you have it.
Follow these steps and you'll be the second best looking person on the Death Of A Bachelor Tour.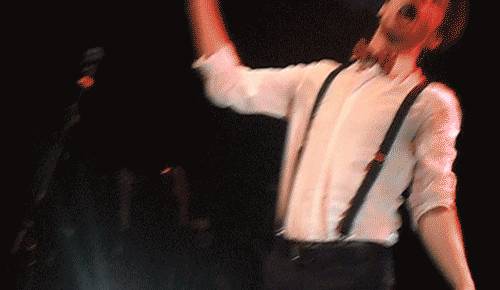 tumblr