17 Iconic Celebrity Halloween Outfits That Definitely Put Yours To Shame
1 November 2016, 12:02 | Updated: 8 May 2017, 17:09
Not sure we'll ever be able to compete with Matty Healy's look tbh...
That's it! Halloween is over for yet ANOTHER year and we're so sad! But before we whip out our extra festive Mariah Carey christmas playlist, we should probably take a look back at all the costumes that your faves rocked this year, right? From Halsey's Halloween extravaganza to Brendon Urie's zero percent effort... this is Halloween 2016!

Halsey, who didn't give a sh*t about the overpopulation of Harley Quinn this Halloween.
Troye Sivan, who served you spooky jilted Bridal couture.
Brendon Urie, who didn't even try.
Happy Halloween from Madrid, Spain pic.twitter.com/uF1eC1KHdI

— Brendon Urie (@brendonurie) October 31, 2016
The 1975, who got their ENTIRE tour crew to dress up as Star Wars characters.
Including Matty Healy, who went full Kylo Ren on stage.
GOD BLESS MATTY HEALY pic.twitter.com/3MJzAhbzMq

— lexie!! (@hollandbarnes) November 1, 2016
Ashton Irwin, who went to Halsey's fancy dress party as one of the characters from Reservoir Dogs.
Luke Hemmings, who went to the same party as Mia Wallace from Pulp Fiction.
Halsey again, who served you the fiercest looking Kill Bill Bride on the planet.
Calum Hood and Ashton again, dressed as miserable Elmo and Oscar The Grouch.
Emma Roberts, who went as... Tate Langdon?
Amy Schumer, who bit the Stranger Things bullet but gender flipped it to perfection!
GOT's Maisie Williams and Sophie Turner, who came dressed as Hash Brownies and left us GAGGING.
Halsey AGAIN, finally confirming what we've known from day one... she is Eleven.
The actual kids from Stranger Things, who dressed as Superheroes... except Mike who went as a Whoopee Cushion.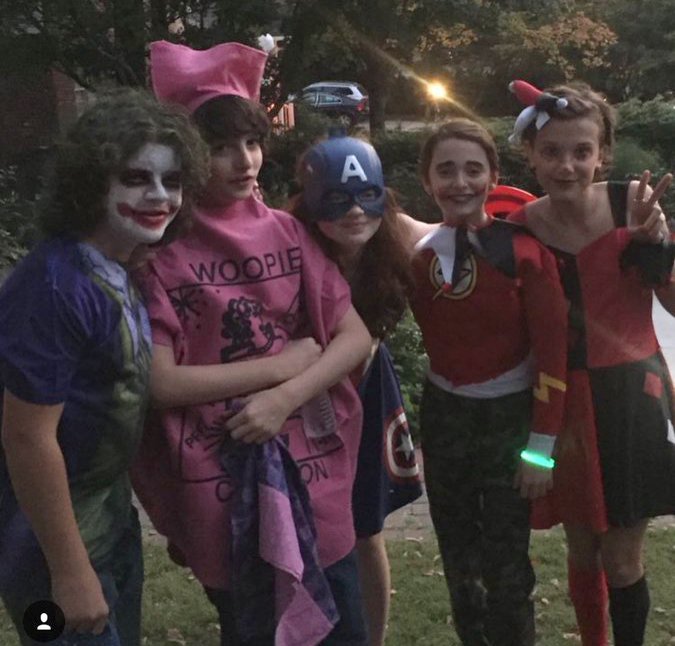 Jonathan Byers and Nancy from Stranger Things, who ditched Barb (AGAIN) to do The Wizard Of Oz with friends.
Ariana Grande, who served incredible Moonrise Kingdom vibes with bae Mac Miller.
Oh, and Evan Peters, who looks just as confused about his costume as we do!
Evan Peters yesterday leaving Kate Hudson's Halloween party. pic.twitter.com/UIS0celmOm

— AmericanHorrorStory (@fyeahahs) October 29, 2016
GOOD WORK, LADS! SEE YOU NEXT YEAR!
via giphy.com
___ ___ ___ ___ ___
Listen to this week's #PopBuzzPodcast featuring The Chainsmokers right here on Soundcloud, or download for free from iTunes to get new episodes sent straight to your phone every Wednesday. You can also find us on AudioBoom or TuneIn - if that's what you're into.