16 Things You DEFINITELY Bought From Claire's Accessories Back In The Day
7 June 2016, 10:27 | Updated: 8 May 2017, 17:09
Mum, I seriously need these fingerless gloves tho!
When was the last time you stepped foot in Claire's Accessories? Because these day it's all about phone cases and accessories, there's barely a stash of neon leg-warmers in sight! Long before smart phones, Claire's was where almost every type of girl got her essentials. From the scene kids, to the popular girls... we all handed over our pocket money at the till of the teen girl holy ground.
1) Those incriminating glittery butterfly clips.
Source: Amazon.com
There was no greater Mary-Kate and Ashley hair trend than that of the butterfly hair clips. You would never be caught DEAD at the school disco without a couple of multicoloured clips in your hair. NEVER.

2) Knee high striped socks that proved your emo status.

Source: punkxrawkxgurl.deviantart.com
Sure, you may have experimented with the multicoloured vibes but they had to be either standard black and white or sassy black and red if you wanted your tween emo phase to be taken seriously.

3) THE FASHIONABLE FEDORA!

Source: Polyvore/Claire's Accessories
Oooh, you never forget the day you wore your first fedora. Although, if your first fedora wasn't black and pink, or at least pinstriped then it didn't count. And FYI, summer holiday straw fedoras do not count either.

4) Those tiny tiny watches that you wore as rings.
Source: Pinterest.com
What self-respecting Queen of the playground had time to roll up her sleeve to check a sensible adult wrist watch when she could simply sashay around with 4 different time zones on each of her fingers?

5) The nightmare-inducing neon rubber belly button bars.
Source: Pinterest.com
No tween-hood was complete without them. Even if your Mum wouldn't let you get your belly button pierced, it never stopped you checking out those neon spiky numbers. Maybe your friend would want one for secret santa?!

6) Fancy neon leg warmers.
Source: Claire's Accessories
The perfect winter accessory... especially if they were neon. All neon all the time - those are the unspoken rules of Claire's Accessories.

7) Peace jewellery, or... if you were really edgy - Yin and Yang jewellery!

Source: Pinterest.com
You name it, you had it. Earrings, drop earrings, feather earrings, charm bracelets, ankle bracelets, chokers... BEST FRIEND NECKLACES.

8) Glittering statement Cherry earrings.

Source: Claire's Accessories
The trademark of any self proclaimed 'popular girl' who wanted to make a cheeky statement...

9) Or edgy black dice earrings.
Source: Claire's Accessories
And if you were one of those cool, alt-girls who listened to nothing but Simple Plan or Fall Out Boy... then this was your go accessory.

10) The iconic tattoo chokers that have now somehow come back into fashion.
Source: Claire's Accessories
Isn't it funny? You had about 75 of those elasticated plastic chokers and now they're back in season... you can't find a single one!

11) The glorious and legendary Body Glitter and Glitter Hairspray.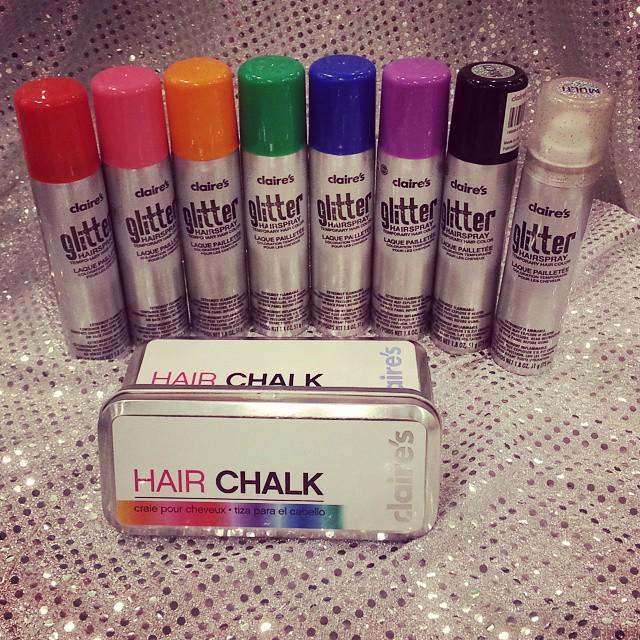 Source: twitter.com
You still have dreams about the smell of that body glitter. And you're also probably amazed that you managed to survive tween-hood without suffocating yourself on the fumes of the hairspray. At least you would have looked glam at your funeral tho.

12) Karma bracelets or Power Beads, depending on how cool you were.
Source: Pinterest.com
Each colour supposedly had healing powers and you gullibly believed the hype. But the main reason we wore these skin pinching devil contraptions was to show the more you had on your wrist, the higher your social ranking was.

13) Those classic headbands with the oversized bows.
Source: Claire's Accessories
You were rocking these headbands with oversized bows before Blair Waldorf even step foot on the Upper East Side. Shout out to Melanie Martinez for keeping the dream alive.

14) Fishnet. Fingerless. Gloves.

Source: Claire's Accessories
To go with those stripy knee high pop socks we mentioned earlier. It was a look, ok? Lace, fishnet, wooly... no discrimination when it comes to fingerless gloves, fam.

15) THE FASHION TIE!

Source: Claire's Accessories
The mark of a true Claire's hoarder.

16) The Tutu.
Source: pinterest.com
The one thing that you spent ALL of your pocket money on. And the one thing that brings every single piece of this list together for the ultimate Claire's Accessories outfit.