10 Breathtaking Pictures That Prove Fashion Peaked In 2006
13 April 2016, 06:00 | Updated: 8 May 2017, 17:09
We'll never reach these dizzying heights ever again.
Fashion peaked in 2006 and you know it.
1) Using a tie as the ULTIMATE accessory.
Disney Channel
Honestly, nothing said "I've thought about this outfit carefully and strategically", like a well accessorised tie. Nobody does that anymore. And it's a crying shame.
2) Pringle Sweaters
FOX
You only wore one of these because Summer Roberts repped one on Season 3 of The OC once and you just had to steal her style.
3) Country Chic Realness
Asymmetric hemmed dresses with spaghetti straps and cowboy boots. Taylor basically birthed this trend all on her own. It's only a matter a of time before this trend goes through it's renaissance period.
4) Tartan Mini Skirts and Shorts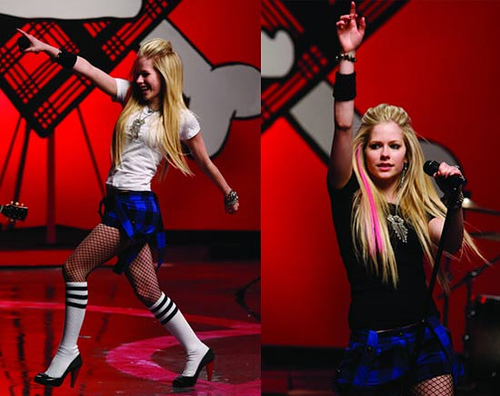 It didn't matter what kind of music you were into back in 2006, we ALL wore our pleated Tartan skirts with pride. Avril, pictured here in 2007, tried to fly the flag post-2006, but it turned out that she herself had already peaked the trend.
5) STUD BELTS!
Getty Images
This trend, along with chunky metallic belts, was going strong until the late 2000s when suddenly, someone decided that they weren't cool anymore. And if you're still reppin' them, we salute you.
6) Glittery Bolero Jackets
Disney Channel
The holy grail of fashion in 2006. If you managed to get your hands on one of these, you were basically Sharpay and everyone had to bow down to you.
7) Velour Tracksuits
theperennialstyle.com
We wish we could say the holy Velour Tracksuit soldiered on 'til the end of the '00s but Kim K killed it. Now there's no way these could make a credible comeback now.
8) Tartan Capri Pants
Between this and The Hills, southern California had all your fashion needs covered. In fact, this whole outfit was on your Christmas list, wasn't it?
9) Your boyfriend's hoodie that HAD to be paired with heavy eyeliner.
rollingstone.com
This was the ultimate fashion statement. It gave off a cool yet careless vibe that everyone STRIVED for as a teenager. If the 20-something-year-old you did this today, you would probably just look like a hungover student on the way to breakfast.
10) Fergie.
Definitive proof that fashion peaked in 2006. No one has ever dazzled as gloriously as Fergie, Queen of 2006. #AllTheTrends