9 Amazing Make-Up Looks Inspired By Your Fave Album Covers
1 February 2017, 11:17 | Updated: 8 May 2017, 17:09
From "I Like It When You Sleep..." to "Regional At Best", we've got the right look for every record you truly love.
You own the t-shirt, you've seen them live, you even bought the limited edition $250 signed ukulele you now use as a clothes hanger in your room. But how else can you show off your fandom in a simple yet stylish fashion?
Album-themed make up obviously!
And, lucky for us, there are some great examples of album-art-themed make up looks on the internet. Here's just a few of our faves that we found for you to try out at home.
1) Twenty One Pilots - Regional At Best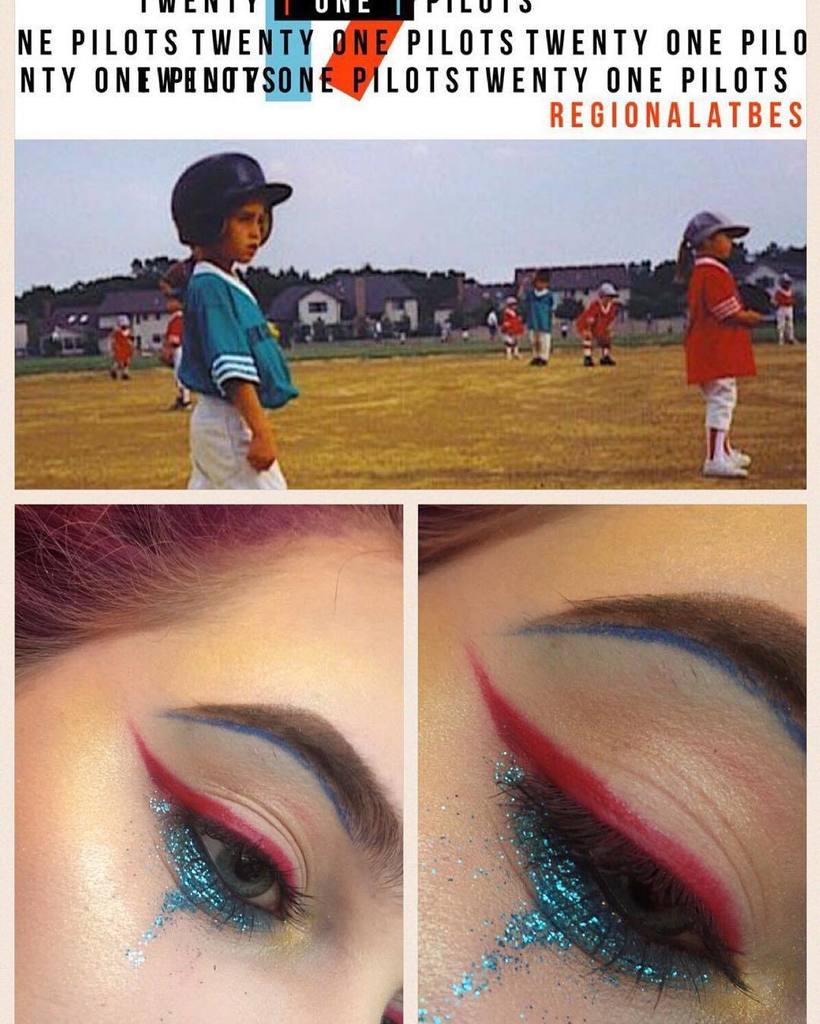 Twitter: muachrissy
Show you ain't no "fake fan" by going super old school in your TØP-related cosplay, maybe even pairing this with a baseball outfit for the full effect. Also, if a stranger sees your eyes and approaches you to say how much they love RAB, make them your fren for life.
2) Green Day
DeviantArt
Go double Dookie, double American Idiot or mix and match - maybe Nimrod on the left and 21st Century Breakdown on the right?
3) Halsey - Badlands
YouTuber Sophie Foster takes her love of Halsey and creates this rather awesome look that would fit in perfectly at a concert. Prepare yourself now for the arrival of The Kingdom.
4) The 1975 - I Like It When You Sleep For You Are So Beautiful Yet So Unaware Of It
Sophie also turned her attention to The 1975's truly excellent 2016 opus, with some bright pinks and whites reminiscent of Matty's neon-heavy aesthetic.
5) Panic! At The Disco
Tumblr: slutforryan
Perfect for when your eyes are the size of the moon. And, just like the Green Day ones, the mix and match options could be very fun!
6) Muse - Showbiz
Flickr: darkshines
The Devon trio's debut album still manages to get our tender emo hearts trembling all these years later so we hope this mascara is water-resistant or it ain't gonna last very long.
7) Kanye West - The Life Of Pablo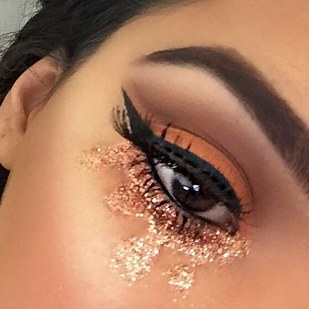 Twitter: @itsSarahKhan
Sarah Khan has already made a name for herself on social media with her hip hop and R'N'B inspired looks but it's this tribute to Kanye's 2016 masterpiece that particularly caught our, um, eye.
8) Pierce The Veil - Misadventures
Misadventures- @piercetheveil !! Check out @BrighterBeatshttps://t.co/myQEAS2eWK pic.twitter.com/u4QqMAppXw

— syd (@sydtayxo) August 14, 2016
PTV's pop punk opus has inspired countless fan art images thanks to its cartoon-style cover but this eye-work takes things to a whole new level of awesome.
9) With Confidence - Better Weather
inspo: Better Weather by @withconfidence_ !!check out their album & @BrighterBeats https://t.co/B20J3yJu6E pic.twitter.com/p3bf9hTtvf

— syd (@sydtayxo) July 17, 2016
Celebrate the arrival of Australia's latest and greatest pop punk export with this look in tribute to their really excellent debut album. Do this one now before they get massive and everyone has it!
Got your own album-inspired make up look? Share it with us below.
___ ___ ___ ___ ___
From Brendon Urie to The Vamps, here are the best bits from the #PopBuzzPodcast in 2016. Listen right here or subscribe for free on iTunes to get new episodes sent straight to your phone every Wednesday.