9 No Fuss Beauty Hacks Every Lazy Girl Needs To Know
25 January 2016, 15:37 | Updated: 8 May 2017, 17:09
Because not all of us have 30 minutes to spend on our eyebrows.
I'm not sure how they do it, but beauty bloggers always seem to have about an hour each day to do their makeup. a) Ain't nobody got time for that and b) ain't nobody got time for that. So, if your mornings are usually full of chaos and struggling to put shoes on while you run out the door, here are 10 makeup hacks that will make your life just a tad bit easier.
Save yourself the effort, use your lipstick as a blush.
Don't get caught up in the myth that you have to make use of every item of makeup that you've ever bought. Double up your lipstick as a blush. You'll save some time rifling through your makeup bag as well as time deciding how to coordinate your look.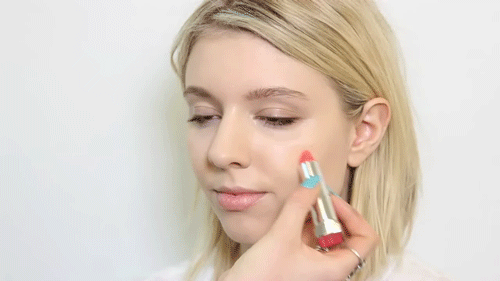 gif via thedebrief.co.uk
Know your dupes.
We all love a good makeup tutorial, but occasionally these products will stretch just a tad outside our price range. Don't spend time trying to track down discounted products or limited edition stock. Just find the drugstore dupe for what you're looking for. There's a dupe for essentially everything. For example, just google "Mac Ruby Woo Drug Store Dupe" and someone will have identified the closest and cheapest alternative.
Become besties with micellar water.
Travelling a lot? Partying a bunch? Feeling like you don't have a ton of time to take care of your skin? One thing I always carry in my toiletry bag when I'm travelling is micellar water. You can get it in a full size or a travel size and you can basically get rid of all your makeup in a few quick swipes. It won't dry out your skin (like some face wipes do) as it has hydrating properties as well. Almost every beauty brand has caught onto the micellar water hype, but my favourite bargain brand is Garnier. Super cheap. Super easy to use.
gif via Glamour.com
Hit snooze one too many times this morning?
Make dry shampoo and colourful scarves your best friend.
We can't always present the best version of ourselves, especially when it comes to what our hair looks like. Amassing a small collection of colourful scarves and hair accessories can cut styling time in half on days when you just don't have the time. This is useful when you're running late but still, you know, care about what you look like.
gif via Huffington Post
The best lip product I own.
Rimmel exaggerate lip liner. 5 second application, no mirror necessary (it pretty much goes on like a chapstick), versatile colour swatches. Absolutely no fuss. This is the best lip product I own.
Get perfect eyebrows in 2 minutes.
If you have even less than two minutes to spare, consider investing in a clear brow gel. Literally two swipes on each side and your eyebrows already look heaps better than their natural state.
Kill two birds with one stone.


Learn to love natural oils.
Skip the expensive designer brand moisturizers. If you're running out the door or are are looking for a no-fuss night routine, Argan oil is super quick and easy. And it's phenomenal for the skin. Try it for a week and you'll likely end up saving money on concealers in the long run.
And the one beauty hack people CAN'T stop talking about? Crying!
Life hack: save money on makeup remover by letting your school, family, etc induced tears wash away the makeup for you

— Raelynn Rodriguez (@raelynness21) January 21, 2016
life hack: save on makeup remover by just crying off all your makeup every night

— A Classic Lamb (@melodylamb) January 22, 2016
life hack: use your tears as makeup remover

— RUFUS 3.2 (@UMRPTL) January 22, 2016
life hack: cry your eyeliner off!!! it saves ur makeup remover and therefore ur money!!!

— julia sucks (@unicornjulia) January 22, 2016
Life hack part two: dot waste money on makeup remover, you can just cry it all off!

— kAsshole (@abstractrodent) January 23, 2016
gif via imgur