9 Men Who Prove Pink Looks Better On The Boys
14 October 2016, 16:48 | Updated: 8 May 2017, 17:09
All your faves love to throw some colour in their wardrobe...
It's the boldest fashion statement of them all - whether on a suit jacket or a well placed scarf, there's nothing quite like a pink outfit.
And, thanks to pop's current 80s obsession and Matty Healy's invention of neon signs, the salmon-shade is slaying all over 2016. So, we thought we'd round up a few of the music world's finest who have been rocking the pink look of late so we can all replicate their aesthetic. Bring on the brightly coloured good times!
1) Chuck Bass (Ed Westwick)
Pinterest
The granddaddy of style, the most fashionable man in NYC and all-round salty b*stard Chuck bass was the only reason to keep watching Gossip Girl all the way to its bitter, Dan-centric end. The show may be gone but those iconic outfits live on.
2) Matty Healy
tumblr
The 1975 boys have made a great deal of use out of the colour pink this year, both in their stage set up and neon-based promo. Matty rocked this t-shirt earlier in the year and, despite it basically turning you into a walking condom ad, we kinda want to track one down.
3) George Daniel
Instagram
The faithful drummer has had some bold looks in the past, specifically those PJs he rocked at Coachella earlier in the year. But this jacket, spotted on Instagram, is the perfect winter garb for strutting around the Northern Quarter of Manchester. We'll see you for a pint in Temple Bar at the end of the night George.
4) Troye Sivan
tumblr
Serving up that "M&S January Sale" realness, this is the perfect, cosy top to wear to your parents Christmas party, Bridget Jones style. Festive hats are also very much encouraged.
5) Olly Alexander
fuckyeahollyalexander, tumblr
Let's be honest - this man is an official fashion icon at this point. Hitting you like a giant pink meteorite, Olly knows how to mix it up with a variety of sporty, silly and stylish salmon for us all to enjoy. Not quite as incredible as the famous V festival Bring It On outfit but still, a great effort.
6) Brendon Urie
tumblr
Shown above on one of the rare occasions he actually chose to wear a shirt, Brendon's shiny jackets have often been resplendent in pink but we decided to go for this picture because of the fake moustache thing. It's just fun.
7) Gerard Way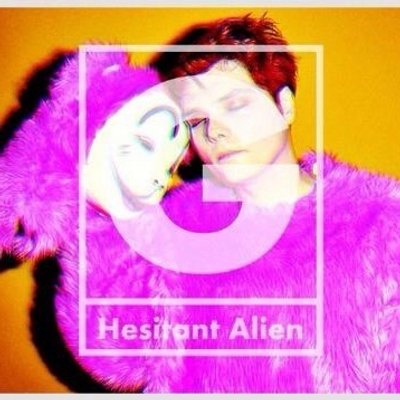 Twitter
When you are really stuck for the right outfit, when nothing in your wardrobe is jumping out at you, when your favourite shirt is crumpled up in the laundry basket, what do you do? You hit the costume shop and head out to the nearest furry convention. Just like Gerard would want you to.
8) Tyler Joseph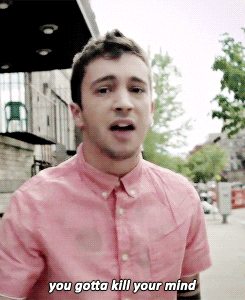 tumblr
"You gotta kill your mind" when it comes to only wearing black. Time to crack out that pink shirt look and maybe even paint up a custom ukulele for the perfect accessory to go with it. Plus this shirt totally matches up with Josh's hair. Which is nice.
9) Ashton Irwin
Pinterest
Oh well, not everyone can pull it off we guess...
Got your own fave man in pink? Let us know below.