13 Weird Beauty Trends From 2016 That Should NEVER Have Happened
7 December 2016, 16:57 | Updated: 8 May 2017, 17:09
Honestly, what were you all thinking?
Like 2015 before it, 2016 gave us some truly inspired beauty trends... and some tragic not-so-inspired ones. How many of these absolute disasters did you try? Check them off as you go!
1) Wasabi Lip Plumper

The big lips trend carried itself over into 2016 but it was as if the traumatic Kylie Jenner lip challenge wasn't enough for the world. Discovered by Farah Dhukai on Instagram, the 'natural lip filler' should be left on for no more than one minute and wiped off immediately... because, ya know, WASABI BURNS. The plumpness is supposed to last 24 hours.
Did we try it? Listen, we don't care if you're saving money by combining your sushi condiments and beauty products - we prefer our beauty hacks to be without potential health hazards. Needless to say, we passed on this one.

2) Lip Contouring
Obviously, there are ways to make your lips appear bigger without applying the satan of all condiments or sucking into a shot glass. YouTube gave us the perfect solution - lip contouring, perfectly demonstrated in the video above, with about 17 different shades and a VERY steady hand.
Did we try it? Well, it's a much more practical way of achieving that perfect pout but who has the time? It's a no from us.

When Star Wars: The Force Awakens dropped at the end of 2015, we didn't expect Chewbacca to have such an impact on the fashions of New York Fashion Week. But true to 2016's unpredictable form, Libertine's AW16 saw models walk down the runway with tufts of faux Wookiee hair Pritt Stick'd onto their nails. WTF?
Did we try it? If they're going to get in the way of us devouring a delicious large pizza, then no.

4) Curling your hair with Cheetos
FACT: Grav3yardgirl is a legend when it comes to wacky beauty techniques but she crossed a line with this one. The trend is exactly what you think it is. Instead of curlers, Cheetos are used. The hair is rolled around the cheese puff, pinned and then put into a god damn Dryer Hood to set.
Did we try it? You know what's worse than Cheeto dust in your hair? HOT CHEETO DUST IN YOUR HAIR. We feel sick just thinking about it.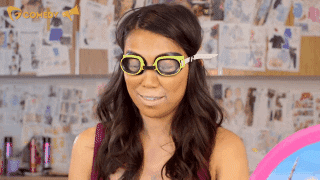 via youtube.com
Cheetos: clearly the secret to maintaining fierce beauty in the year of 2016. This one was a joke but we can't stop thinking about it. The video, called 'Make Your Face Great Again', was created by Fusion and includes a never before released concealer called "Veiled White Supremacy". Iconic.
Did we try it? It's Cheetos again. So it's an instant no. Sorry.


Hair graffiti actually started off as a pretty cool trend but like all weird and wonderful beauty techniques, it was completely thrown to the dogs. The technique is simple; grab a stencil, get some coloured hair spray and away you go.
Did we try it? Honestly, what is going on here?


Rainbow brows actually made an appearance in 2015 but came back with an incredible glo-up for 2016. The look requires a steady hand and the best damn blending skills you've ever seen but damn, it's worth it when they're done right!
Did we try it? They were cute as a little Pride weekend glo-up but for everyday wear? Nah. We just can't commit to that level of glamour.

8) The 100 Layers Challenge
Ahhh, the '100 Layers Of...' challenge. From lipstick to eye lashes to fake tan and nail varnish, EVERYONE attempted the '100 Layers' challenge. Not a single part of the face or body was left untouched. The trend got so out of control, it made Jenna Marbles risk her actual life to kill it once and for all.
Did we try it? No. And we can't wait to leave this mess behind in 2016!

9) Tie-dye Hair
via geekologie.com
Like the Hair grafitti trend, there's two different route you could have gone down with your tie dye hair. You could opt for the incredible marble-esque instagram vibe with low-key pastel colours and effects OR you could go for the full Summer Camp in 2007 aesthetic, like the above. The choice is yours...
Did we try it? We didn't have the guts.


Glitter Tears were actually our favourite beauty trend of the year. They even showed up on the glamorous runways of Saint Laurent! They look incredible but in hindsight, you probably shouldn't be putting glitter THAT close to your eyes. It's not worth it.
Did we try it? We actually did! And blinded ourselves for a week in the process.:(

11) Tape Contouring
Yeah, it's what it looks like. Taping your face to high hell and back before applying the contour. Yikes.
Did we try it? Noooooope.

12) Penis Contouring

via cosmopolitan.co.uk
OK, so remember how in 2015 people kept making up stupid ways to contour your face? 2016 saw that trend and thought, 'Nah, I can do better'. So it did, in the form of Penis Contouring. Try it if you dare but for Christ sake, PLEASE BLEND IT IN BEFORE YOU LEAVE THE HOUSE.
Did we try it? Sadly not! But never say never!

13) Dickliner
@asialbx you have inspired me deeply pic.twitter.com/zTvkCxfhwe

— Tatiana (@babyyy_T) November 19, 2016
Started by Twitter user Asia in response to all those insane eyeliner techniques, Dickliner quickly *ahem* grew to be one of the funniest eyeliner trends of the year. Her original post sparked a bunch of people sending her snaps of their own eyeliner and it became the most iconic beauty trend of the year by far.
Did we try it? We're saving it for a special occasion. We'll let you know how it goes.
____ ____ ____ ____ ____
Listen to the #PopBuzzPodcast with Niall Horan right here or subscribe for free on iTunes to get new episodes sent straight to your phone every Friday.