ASOS Are Selling "Visible Butt Crack" Jeans And They Are A Crime Against Humanity
30 August 2017, 15:46 | Updated: 15 November 2018, 15:28
STOP IT. STOP IT NOW.
First we had "Clear Knee Jeans", then came the "See Through Jeans". Then some kind of half shorts, half jeans type situation happened, then jeans with rips right under your bum cheeks. Oh, don't forget those $400 muddy jeans either. Denim has truly been doing the MOST in 2017 but now... now it's finally gone TOO far.
Online fashion retailer ASOS are selling jeans that are, quite literally, the epitome of business in the front, terrible terrible TERRIBLE party in the back. From the front, they look perfect but from the back... they've been designed to purposely show off the top of your butt crack.
ASOS
For the small price of $60 (or £38), you can actually flaunt your crack in public while maintaining your signature high-waist aesthetic. How convenient! How thoughtful! Passers by are gonna be OBSESSED.
Unfortunately for ASOS, the majority of the internet isn't on board with the lewk. It's a resounding NO from them.
@ASOS, Seriously wtf?https://t.co/nzlnF6EZGN

— WarBird (@Rawwwrbyn) August 22, 2017
@ASOS wtf? pic.twitter.com/oWNMcN2yfX

— Kate (@lemoncolour) August 25, 2017
ummmm wtf @ASOS??? #canyounot pic.twitter.com/0TWPWeo9W6

— Femestella (@femestella) August 27, 2017
If you're not into the whole 'ass-crack-cut-out' trend that ASOS is trying to flog but are also kind of keen to start experimenting with other forms of visible butt crack denim-wear, then you'll be thrilled to know that the iconic early 00's trend of low rise jeans is making a swift comeback.
Time for the mainstream and alternative gals alike to dig those studded belts out from the bottom of your wardrobes and embrace the accidental crack slip of your teenage years. Or, ya know... stick to ya reliable mom jeans. Please.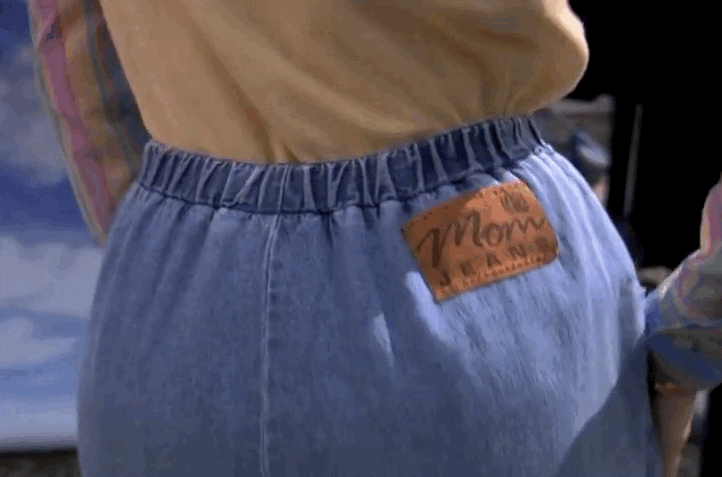 NBC