This Genius Black Lipstick Hack Is About To CHANGE Your Damn Life
14 June 2016, 11:30 | Updated: 8 May 2017, 17:09
If you're broke and can't afford the Black Lipstick lifestyle, time to listen up!
We're SUCKERS for a good make up hack here at PopBuzz. Whether it's the ol' using your red lipstick as a blush or applying white eyeliner before your eyeshadow to make the colour pop, we're aaaaaawwwllll about it. Except that one that Taylor Swift shared with us... maybe using a Sharpie to draw on your eyeliner was maybe a step too far? LOL
via giphy.com
If you've been in the market for a black matte lipstick and you're getting frustrated with the pricey pricey price tags of the best ones out there right now, then this is the hack for you. Most of the black lipsticks we seem to come across have a super creamy consistency, which means they reflect light veeeery easily - not ideal when you're going for that matte ~aesthetic~ tho, right?
Enter Kylie Jenner with the hack of the century. Whether you're a fan of Kylie's side hustle or not, her latest make up revelation will come in handy when you're broke AF. If you can't afford to splurge on her brand new 'Dead Of Knight' Lipkit, or if you're simply not ready to commit financially to the dark lip life then have a rummage for that gel eyeliner you already own.
Yeah, you heard it right... GEL EYELINER AS BLACK LIPSTICK. Why didn't we think of this sooner?
The sharpness of the pencil or brush acts as the PERFECT lip liner.
Moisturise your lips before application, let it sink in for around 10 minutes and then let it RIP!
Then again... if you've already gone through your teen emo stage, you probably mastered this hack years ago! As you were, friends... as you were.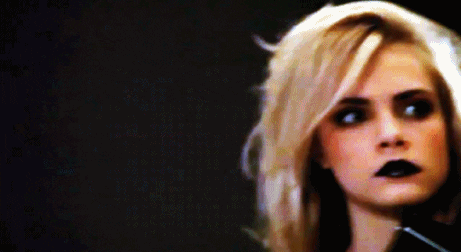 via giphy.com