People Are Furious At This Brand's "Diverse" #AllGirls Campaign For Being Completely Tone Deaf
10 August 2017, 16:52
"I think you should call this #somegirls - certainly NOT inclusive."
Word of advice: If you're going to create a campaign that promotes #AllGirls, then you better make sure that #AllGirls are visually represented... otherwise your big expensive project is going to get ripped to shreds by the internet.
Fashion brand Boohoo found out the hard way this week after being called out on social media for the underwhelming representation in their new campaign that pledges to cater, you guessed it, #AllGirls.
The campaign itself features a bunch of real life consumers who were hand-picked by Boohoo to star in both photo and video ads across the internet. The brand released their first video on August 7th but people are NOT happy about it because it appears to excludes muslim girls, asian girls, plus size girls, non-binary girls and girls who aren't able-bodied among others. Basically not ALL girls, as the campaign claims to represent.
#ALLGIRLS has dropped and it's all about inclusivity and girl power, created by an ALL girl crew boohoo is for all girls #allgirls pic.twitter.com/HfL4HYer67

— boohoo.com (@boohoo) August 7, 2017
After releasing the campaign, many people felt that Boohoo had only appeared to pay lip service to the various types of girls they mention in the video while not actually visually representing them on screen.
How can you POSSIBLY call this inclusive @boohoo? Where's the plus size / trans / disabled girls? You should be ashamed.

— Sophie Butcher (@sophiefbutcher) August 7, 2017
I knew this would be a load of shit before I even watched it, coming from a brand that doesn't even use plus size models for its Curve range

— Sophie Butcher (@sophiefbutcher) August 7, 2017
Apart from if we're trans, disabled, plus size or basically anything apart from a size 6 you mean? pic.twitter.com/AvCqolhLJg

— Georgia (@georgia_cwood) August 7, 2017
I think you should call this #somegirls - certainly NOT inclusive.

— Sam BugejaBeautifie (@Sam_Bugeja) August 7, 2017
iT's aLL aBoUt iNcLuSiViTy pic.twitter.com/WHo3oME6dY

— Kat (@KatLeStrande) August 7, 2017
This couldn't be more inaccurate? @boohoo where are plus size, transgender, disabled or girls who wear headscarves for exampe?

— April Di Tomaso (@aprilditomasox) August 7, 2017
You may have seen the new Boohoo campaign today #AllGirls, which actually excludes more girls than it promises to include...

— Debz (@Debzjs) August 7, 2017
Hey @boohoo, where the fat girls at? Oh right...we don't get to be #allgirls https://t.co/mFEZAWM7um

— Amanda Elliott (@AmandaApparel) August 7, 2017
The brand also reportedly started deleting negative comments under the video on Instagram.
@boohoo deleted my comment on their IG post calling out #allgirls campaign 4 not being inclusive as it claimed to b as well as other ppls pic.twitter.com/OSujCHGTkm

— Jesse P (@whatjessewore) August 8, 2017
In response to the backlash, the brand issued a statement to FreetobeOK where they say that the first part of the campaign was not the entire picture. Only 13 out of 100 girls that Boohoo have handpicked for the campaign were featured in the video and there will reportedly be more videos in the future featuring a wider representation of the girls they've picked for the ads - which is great! But it still begs the question as to why a more diverse cast of models weren't used in the initial campaign in the first place.
So this is the stock response from @Boohoo on the botched campaign. Great, so when will we see price parity & model usage for #allgirls eh? pic.twitter.com/XQlP5uwvqa

— Free to be OK... (@FreetobeOK) August 9, 2017
In an effort to try and do better, the brand also uploaded a picture of a trans employee who has been working for the brand for three years after issues with representation in the video.
Hopefully, the response to the "tone deaf" ads will have a positive impact on the rest of the campaign. Whether it be bigger, curvier girls, girls in headscarves, trans girls or disabled girls, it sounds like there's been a strong effort to make sure that the next video features a much wider representation of every type of girl they mention in the video and not just the ones that society deems "aspirational and desirable".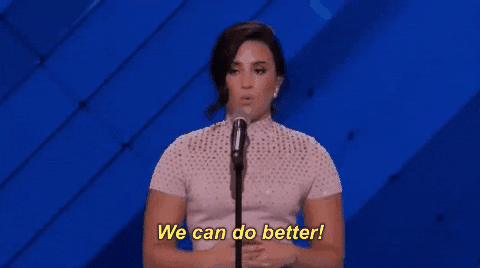 via giphy.com
____ ____ ____ ____ ____
Listen to the #PopBuzzPodcast with Riverdale's KJ Apa right here or subscribe for free on iTunes to get new episodes sent straight to your phone every Friday.