People Are Calling This Offensive Outfit 'The Worst Halloween Costume' Of 2017
22 September 2017, 13:24 | Updated: 15 November 2018, 15:19
"Do you have any idea how many lives and families are ruined over that?"
Halloween is SECONDS away and don't know about you but we still haven't decided on a costume yet. Struggling too? Here's the costume forecast for 2017: You've got Pennywise (or Pettywise if you're feeling particularly salty this year), Jughead Jones from Riverdale, Old Taylor Swift, LGBTQ+ Icon Cuca the Alligator, Atomic Blonde, the girls from GLOW... So many options and so little time.
As for Halloween costumes you should probably avoid at all costs? These pretty controversial contributions from Spirit Halloween are perfect examples.
Spirit Halloween
The new 'Border Babe' and 'Border Control' costumes from Spirit are available right next to the Donald Trump section of the store. The men's costume features a green shirt emblazoned with the name 'Agent Wall' in case you wanted to get even more specific. The costumes are apparently so popular, they've reportedly sold out.
Apparently being a Border Patrol agent might be a hot scary costume this Halloween. Um, no. pic.twitter.com/OOD3DP0WNO

— Danny Sullivan (@dannysullivan) September 20, 2017
In a statement to Gothamist, Spirit defended the costume saying, "Spirit Halloween offers a full range of Halloween costumes that celebrate and appreciate all cultures, occupations, and figures, both real and imaginary. With that, we playfully acknowledge topical themes — and building the wall is certainly a trending conversation in today's political climate. We believe this costume carries similar sentiments akin to that of a police officer, military costumes, firefighter, doctor and more. We've respectfully developed these costumes knowing that Halloween is a time for humor and fun."
They're not wrong. Halloween IS a time for fun and humor but probably not when people's lives are being threatened. A ~slutty~ nurse is not in the same league as a white guy chanting 'MAGA' wearing a Border Control costume just for sh*ts and giggles, is it? Not in this current political climate. No way. Not ever, even.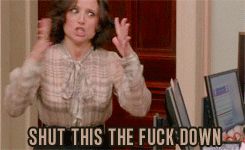 HBO
A HUGE spike in hate crimes against Latinx people (as well as muslims and black communities across the country), occurred soon after Trump's comments on immigration during his presidential campaign. His actions and twitter policies have not only seen legal forces (like ICE) ramp up their action regarding deportation, but they've emboldened entitled white civilians to start entrapping undocumented Americans too.
Many hard working American people and families are currently facing deportation under Trump's administration and with Trump's intent on ending the DACA programme, many young Americans who arrived in the US as undocumented children are now fearing for their future.
spirit halloween has a border patrol costume that's FUCKED pic.twitter.com/uKfAZ6FSd7

— elle (@conorsheary) September 9, 2017
Worst Halloween costume of the year, or WORST Halloween costume of the year?