Boys Who Killed The Fashion Game In 2015
8 December 2015, 14:28 | Updated: 8 May 2017, 17:09
How Harry, Troye, Olly and others completely murdered the fashion game this year.
2015 had to be the year of the stylish guy. From musicians to models and actors, our favourite guys took street and red carpet style and took it to the next level. Here are our favourite dudes who crushed the style game in 2015.
Harry Styles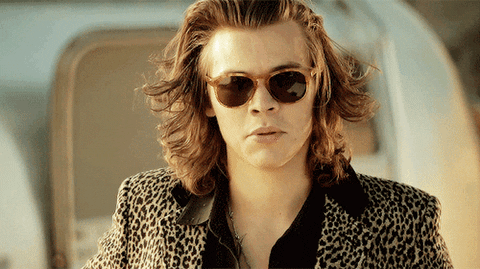 This year, One Direction papi, Harry Styles worked tirelessly to complete his transition into Keith Richards. I mean, there is quite literally no difference between Keith Richards and Harry Styles at this point. Harry takes his role as a budding fashion icon very seriously. He wowed at the British Fashion Awards with a daring floral number and consistently managed to be the best dressed dressed member of One D.
Troye Sivan
This was definitely the year of Troye's fashion awakening. We can probably attribute this to the numerous magazines he appeared in because of the critically acclaimed WILD and Blue Neighborhood projects. Once a fan of basics and cardigans, Troye is having fun with patterns and textures. Troye's new style screams "mysterious with a heart of gold" which suits the Aussie singer quite well.



Lucky Blue Smith

[VIA TUMBLR]
LA based model Lucky Blue and his off duty style gave us mild heart palpitations this year. He and his famously good looking siblings have mastered the art of simplicity and gone all mainstream on us. Their stark looks and laidback style made us all strive to look good in basics--if only we all looked like supermodels.
Drake
2015 most definitely had to be the year of Drake. He was all over the place and, more importantly, he looked really good. His best look of the year had to be from the "Hotline Bling" video. Not only did he rock those dance moves, he was layered up to the Gods. Drake crushed those 2015 roadman vibes and we're certain 2016 will be the year that Drake levels up even further.



Tyler Oakley
Tyler Oakley is another product of improved style via success. In 2015 he came out with Binge, a collection of personal essays and stories which debuted at number 2 on the New York Times Best Seller List. Tyler has been rocking super slimming suits for most of his appearances and we gotta say, he looks sharp.

Mitch and Scott


Superfruit's Scomiche are probably still reeling from their big Grammy win this year but they've got time to rock super stylish and unique outfits. They're quite daring on camera and even their red carpet looks slay our wholes lives. The pair can scrub up nicely so it's no surprise fashion seems to be a priority for them.

ASAP Rocky
If you're wondering who the best dressed rapper of the moment is, look no further than ASAP Rocky. Although he's a pro at rocking urban style, Rocky is fashion week frow elite and always turns up to support his favourite designers. We're not sure what ASAP does best--music or fashion.

Olly Alexander
Years & Years frontman, Olly Alexander's style is truly on point. He effortlessly combines trendy urbanwear with upmarket clothing in an East London via Kensington kind of way. His band is one of 2015 biggest gems and the more we see of Olly, the more we're in awe of his style.