People Are Furious At Forever 21 For "Stealing" This Designer's Entire Collection
4 September 2017, 12:49 | Updated: 15 November 2018, 15:27
"After calling for a boycott and contacting Forever 21, I have been ignored, blocked and critics comments have been removed."
Forever 21 are really not having a great 2017, are they? They've been threatened with a bunch of lawsuits over copyright infringement on three different occasions and now they're being called out for stealing the design and styling aesthetic of an independent fashion designer on Instagram.
The fashion brand's latest campaign is helmed by model and designer Sami Miro, who designed a collection of clothes that feature barbed wire motifs but it appears as though the idea for the collection has been "stolen" from a designer on Instagram whose own collection looks exactly the same.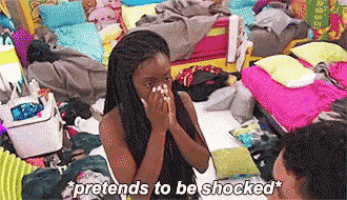 via giphy.com
Before we get into this, we KNOW that the Instagram designer didn't invent the barbed wire motif and we KNOW that it was a huge style trend in the 90s, but that's not why people are pissed off at Sami's collection.
After Sami's campaign dropped, Betsy Johnson, who owns online boutique Freckled Ace, took to Instagram to point out something a little suspicious. Betsy had previously sent Sami a sample of her new collection, Sami responded to the messages saying that she loved a few certain looks, including the "padlock necklace". When a friend sent Betsy the pictures from Forever 21, that's when the red flags started to pop up.
Here's her caption in full: "SO: i contacted sami miro in June to gift her some pieces from @freckledace , she accepted. I was very excited to see her in the collection. However @samimiro new collection with @forever21 is at the very least very similar. After calling for a boycott of the collaboration and contacting sami and forever 21 I have been ignored, blocked and critics comments have been removed. I'm calling for a boycott. @freckledace is founded on ethical production and female empowerment to them be assimilated in a fast fashion context by someone I looked up to and sent me clothing to is disappointing to say the least. comment, tweet, tag, post, whatever."
Sami responded to the accusations with a statement to Refinery 29, where she claimed that the had started the collection in March, while Betsy contacted her in June - which is totally fair and plausible.
"A project in this capacity doesn't happen in just a couple months. The designs were inspired by vintage t-shirts with barbed wire prints and [Pamela Anderson's] very iconic tattoo. I feel really terrible that she feels I took anything from her because she's super talented. I would never ever, ever steal someone's designs and understand the pain myself as many, many large brands have 'stolen' my signature denim/mesh bodysuits. But again, the timeline doesn't add up. I have been working on this since March."
Sami has since been turning off her comments on her recent Instagram posts regarding the campaign but fans are still finding ways to let her know how disappointed they are about how the whole thing with Betsy has been handled. Betsy has also claimed that Forever 21 and Sami have blocked her on Instagram and are not responding to her messages.
Instagram