This Girl Accidentally Charged $733 Of Sephora Makeup To Her Mom's Credit Card And We Are Screaming
29 November 2016, 12:43 | Updated: 8 May 2017, 17:09
If this was me, you coulda booked my funeral right then and there.
When 15-year-old Alex Dello saw that an order for $733 on the Sephora website went through on her mom's credit card, I guarantee you that her entire life flashed before her eyes.

While casually perusing the Sephora website, as many makeup fans do, Alex went to check whether she had any remaining funds on an old Sephora gift card.
Alex had been quietly hoarding up a wishlist of items on the site that she had categorized into her online shopping basket.
Instead of informing her that she had no money on her gift card and sending her on her way, the order for $733 ACTUALLY WENT THROUGH.
I just accidentally charged my mother's card $733 @Sephora pic.twitter.com/rzg9UntKRW

— alex dello. (@dellojello) November 22, 2016
Listen, you KNOW how credit card companies, banks, airlines ETC can be. They'll snatch up your coins real quick but will sweat TF out of you to send it back.
So, understandably, Alex was PRESSED. She contacted her mom and Sephora right away to let them know something had gone really freaking wrong.
"If my girl Theresa doesn't pull through and cancel this credit card order, there's not only going to be a credit card fraud case, there's going to be a homicide case," Alex warns. Yep, sounds about right.

Okay, but here is where our story gets a beautiful wonderful ending.
Turns out Marsha (Alex's mom) is actually a freaking BOSS. Check this.
@dellojello omg what did she say??????

— jordan (@bedroom93) November 22, 2016
@rosyhaIsey she said merry Christmas I'm getting nothing else

— alex dello. (@dellojello) November 22, 2016
Alex gets to keep her $733 worth of makeup (which is probably like 12 items cuz it's Sephora) and Christmas is SAVED.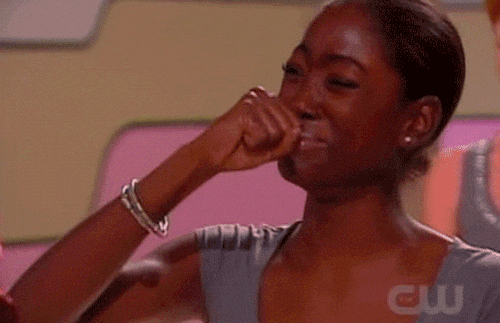 Aaaand, we can basically guarantee this haul is in the right hands. Girl, you better go AWF.
wtf um why can't i look this poppin' 24/7? pic.twitter.com/YLYSqS7zib

— jenna (@xojustjennaxo) November 28, 2016
Well, Alex is an American hero now and the internet agrees.
@dellojello wait you're getting $700 worth of make up from Sephora for Christmas? Goals honestly

— ryn (@93rogue) November 23, 2016
@dellojello my mom wouldve killed me lmao best christmas present ever though damn

— lyn (@tartelettehoe) November 23, 2016
@dellojello @Sephora this is my favorite thing on the internet right now wtf

— mars (@okokphillips) November 23, 2016
Do a haul video, fam!
___ ___ ___ ___ ___
Catch Brendon Urie on the #PopBuzzPodcast right now. Subscribe for free on iTunes to get new episodes sent straight to your phone every Wednesday.