This "Stranger Things" Clothing Line Will Turn Your Piggy Bank Upside Down
2 December 2016, 12:43 | Updated: 8 May 2017, 17:09
Ok so we need basically ALL of this...
Just in time for Christmas, US pop culture store and your spiritual home Hot Topic have unveiled their latest TV-inspired clothing line, this time based around the sweet 1980s style of the Stranger Things crew.
Made in partnership with Box Lunch, a company that provides meals for those in need with money from each purchase, the range includes a mix of t-shirts, jackets and even some pretty snazzy jewellery.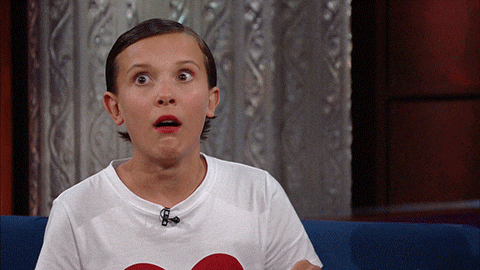 Giphy
Check out a few of our faves below:
A String Lights Necklace!
Hot Topic, $9.50
It doesn't get much more festive than this...
Dustin's hat!
Hot Topic, $12.90
Yeah, the weather is pretty cold but when you look this good, you can pretend it's summer!
Eleven's Navy Windbreaker
Hot Topic, $44.90
Blonde wig not included...
Hawkins AV Club Long Sleeve-Tee
Hot Topic, $26.90
Repping your crew every damn day!
"She's Crazy" T-shirt.
Hot Topic, $28.90
Us in a t-shirt tbh.
Check out the full Hot Topic Stranger Things range here.
___ ___ ___ ___ ___
Catch Pierce The Veil on the #PopBuzzPodcast right now. Subscribe for free on iTunes to get new episodes sent straight to your phone every Wednesday.