'Knifeliner' Has Arrived In Time For Halloween And It's So Sharp It'll Cut A B*tch
10 October 2016, 11:19 | Updated: 8 May 2017, 17:09
KNIFE EMOJI REALNESS.
Sick and tired of your boring old winged eyeliner? Not sharp enough for you these days? Looking for something a little more CUTTING to rock this Halloween? Then boy, are you in for a treat! (Or trick, depending on your you're feeling obvz.)
Eyeliner has stepped up its game once again but this time, we think you're gonna be obsessed.
Hold onto your hats, kids… Knifeliner is here.
Forget that razor sharp flick, the latest eyeliner trend is all about getting the handle and the glimmer of a kitchen knife just right.
It's like a glittering knife emoji for your eye.
All you'll need to create the look is the blackest eyeliner, glittery silver shadow, red lip liner and a few dashing of fake blood.
Halloween on lock.
Thankfully, YouTube has already come through in the clutch with a full tutorial on the look thanks to OMG Lilly and it totally looks like something we could master after a bit of practice.

We can get away with wearing this look all year round, right?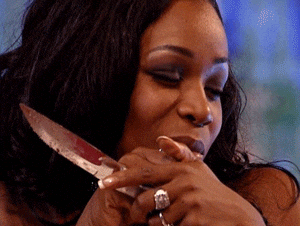 via giphy.com

___ ___ ___ ___ ___
Listen to this week's #PopBuzzPodcast featuring Joe Sugg right here on Soundcloud, or you can download it straight from iTunes, Audioboom or TuneIn.