This Brand Claims Kylie Jenner Ripped Them Off And The Receipts Are Shocking
12 June 2017, 11:11 | Updated: 12 June 2017, 17:35
The visuals of her new merch have not gone unnoticed.
UPDATE: 12/06/17: Uh oh! It looks like Kylie has been caught red-handed on this one!
The CEO of fashion brand PLUGGEDNYC, Tizita Balemlay, has accused Kylie Jenner of stealing her designs. In a post on Instagram she called out Kylie for taking "a whole movement bc of how much money and power they have."
As well as this, tweets of screen shots between Kylie's team and PLUGGEDNYC have also been making the rounds. It would seem Kylie's team received numerous items from PLUGGEDNYC and even asked if a custom colour order could be made. The emails went sent last month and seem to originate from Tizita Balemlay's Instagram story.
The black owned company that Kylie stole her camo clothes idea from is posting the receipts of when Kylie ordered from them and I'm LIVING pic.twitter.com/4r0xEwhw6o

— Kelsha. (@kelshareese) June 9, 2017
This doesn't look good for Kylie, does it?
*******
Whenever Kylie Jenner drops a new merch line, invents lipstick or shows off a new wig on Instagram, controversy soon follows. From cultural appropriation to straight up artistic theft, Twitter ALWAYS has the receipts.
Yesterday (June 8), Kylie launched a brand new line of 'camo' clothing on her website and it took all of 2.5 seconds for her to get dragged by the masses on social media. Why? Well, they're claiming that her new line has been stolen... again.
Here's Kylie's new collection, a line of camo print bikinis and two piece co-ords:
Some are claiming Kylie is back at it again with stealing from black designers, from the print, right down to the styling of the outfit.
People are pissed off because many outlets are crediting Kylie with a 'new trend' as they usually do when she drops anything on her website, when in actual fact, she hasn't created a single original design. It happened recently when she released a line of tracksuits with flames going up the side (originally a Thrasher design but soon adopted by many independent fashion brands like Cake Asia.)
The designs and aesthetics she 'borrows' are almost always from small independent black designers who never receive any acknowledgement while she reaps the millions of dollars in profits and the credit. In this instance, the look (right now to the styling of the products) has been stolen from PLUGGED NYC.
Just in case you guys were wondering where Kyle got her idea from... pic.twitter.com/z4QGgTB4RO

— t.carter (@______babycakes) June 7, 2017
Kylie Jenner straight up COPIED my fellow habesha Tizita aka owner of @PLUGGEDNYCSTORE w/ her new camo clothes/swim line, down to the shoes pic.twitter.com/lIfJTlIv7y

— (@CookedKitfo) June 9, 2017
breaks my heart... KEEP GRINDING @PLUGGEDNYCSTORE ! what's good? @KylieJenner pic.twitter.com/a2HVyljIfP

— ida (@idagiorgis) June 8, 2017
Others are calling out her new designs for being a 'blatant rip off' of Destiny's Child 'Soldier' look.
Y'all tried it pic.twitter.com/VbJm2IDSrW

— Patrick Smith (@PatSmith04) June 7, 2017
Miss Tina did not put in the hours on that sowing machine to be slandered and denied recognition.

— KING SUCIA (@specialksb) June 8, 2017
White Media: "Kylie Jenner starts new camo trend"

Destiny's Child: *Cough* pic.twitter.com/fIt2irf6SP

— Sammy Salsa (@SAMMYSALSA84) June 8, 2017
Obviously, as much as we'd LOVE to give her all the credit, camouflage print and camouflage bikinis were not invented by Tina Knowles but given Kylie's history, she hasn't really got an excuse when it comes to these kind of comparisons anymore.
Do you think everyone is right to be calling her out on this mess? Or again, is it all just a reach?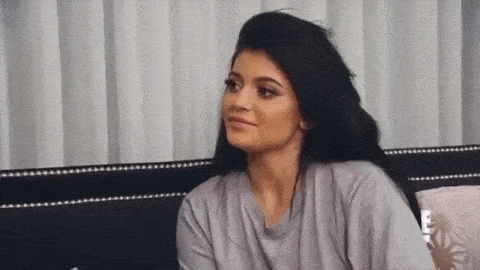 via giphy.com
____ ____ ____ ____ ____
Listen to the #PopBuzzPodcast with Jake Johnson and Annabelle Wallis from The Mummy right here or subscribe for free on iTunes to get new episodes sent straight to your phone every Friday.