This Designer Is Selling "Destroyed" Sneakers For $1400 And Seriously, What The F*cking F*ck?!
9 May 2017, 15:02
I would literally rather walk barefoot.
There are two types of people in the world: those who enjoy a fresh out the box, brand-spanking new sneaker and those who prefer their kicks to be beaten and filthy. But we guarantee you that this pair of trainers (AND THEIR PRICE TAG) we're about to present to you will send chills down your spine whatever your sneaker preference may be.
Behold: these sneakers by French fashion house Maison Margiela. For $1425, you can get yourself a pair.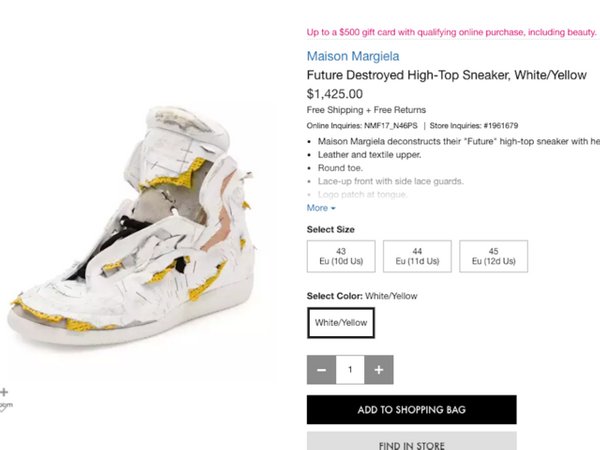 Neiman Marcus
Now listen, I know we've all got a couple of pairs of Converse and Vans that look suspiciously like they've been thrown into a wood chopper but this is absolutely unacceptable. They're held together with actual staples for f*ck sake!
Neiman Marcus
According to the Neiman Marcus website, the product description reads: "Maison Margiela deconstructs their 'Future' high-top sneaker with heavy distressing." HEAVY?! That's an understatement. And also, they are actually charging $500 MORE for a deconstructed version of a shoe that already exists. I mean...
Even though it's ~fashion~ and it's a trend that Margiela have been "nailing" for some time, everyone agrees that this is all a bit too much.
This sneaker is going for $1,425. #Margiela
I'll walk barefoot thanks pic.twitter.com/X8xWOToGDM

— Zezuru (@gary_kai) May 5, 2017
RT @SoleCollector: These "Destroyed" Margiela sneakers will cost you over $1400: pic.twitter.com/6aUywAt2uS pic.twitter.com/qIvFxP1L70

— #fOe (@DJJTR3Y) May 9, 2017
@SoleCollector So yall didn't finish em, stapled the "extras" on the jawn and wanna sell em for $1400? They look like they cost $11.59 to produce to tho

— Greg (@G_poetic) May 9, 2017
@SoleCollector I wouldn't rock them bitches if they were free

— Supe da GOD (@Supedagod) May 9, 2017
@SoleCollector pic.twitter.com/9wb8wTy1rG

— Lord Basquiat (@MattTheGreat94) May 9, 2017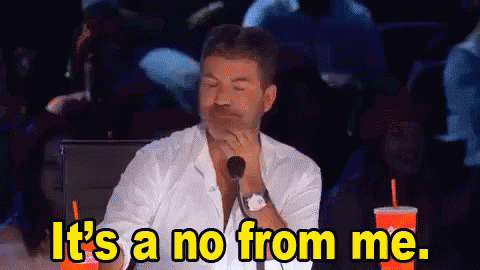 via giphy.com
____ ____ ____ ____ ____
Listen to the #PopBuzzPodcast with Niall Horan right here or subscribe for free on iTunes to get new episodes sent straight to your phone every Friday.