Millie Bobby Brown Was Named "Worst Dressed" For The Most F*cked Up Reason
10 May 2017, 12:42
"She is 13... what "shape" is she supposed to show?"
Millie Bobby Brown was undoubtably the star of the MTV Movie and TV Awards this past weekend. Not only did she slay the red carpet and smize every camera into oblivion, she got to meet her hero Emma Watson AND she picked up the award Best Actor in a TV Show. In short, she had the time of her life.
But some commentary about what she was wearing on the night have managed to annoy a fair few of her fans.
Insider whipped up their Best and Worst Dressed list of the night and lurking on the worst dressed side was Millie. Millie wore a white long sleeve shift dress and a pair of white Cowboy Boots. She was serving. She never stops serving. But alongside a picture of her on the carpet, they captioned the look with this:
"WORST: "Stranger Things" star Millie Bobby Brown looks comfy but lost in a shapeless white dress with with cowboy boots."
Getty Images
SHAPELESS?! SHE'S THIRTEEN?! What would you prefer her to do? Wear a skin tight dress that accentuates her thirteen year old "curves"? WTF? Needless to say, Twitter picked up on the misjudged choice of words and now they're absolutely fuming.
STOP JUDGING HOW CHILDREN DRESS, SHES 13 YOU FUCKING ASSHOLES LET HER LIVE pic.twitter.com/94lrAJx7t5

— Jack Mull (@J4CKMULL) May 9, 2017
did the media really say millie bobby brown was one of the worst dressed lastnight because her dress was "shapeless"... she's 13 years old..

— ashley (@jonaspilots) May 9, 2017
@J4CKMULL @Maria_Munir Also "shapeless"? Like.... is she meant to show off her 13 year old... shape? *horrified shiver*

— Lola Phoenix (@TheLolaPhoenix) May 9, 2017
@J4CKMULL @vtothepowerof2 If she showed more skin she would get more critic, and she is 13 what "shape" is she supposed to show?

— SlayHunty (@SlayyyHuntyy) May 9, 2017
@J4CKMULL Yeah 100% this is so terrible, she's a little girl like wtf do you want from her? All she has to worry about is having fun, media is crazy

— Brody.Monk (@BrodyMonk) May 9, 2017
are u ... kidding ... pic.twitter.com/Nn7cxUKT7Z

— maya loves evie (@starlightfinn) May 8, 2017
UUUM why are we judging Millie Bobby Brown's dress for being "shapeless"? She's a kid. What shapes are you looking for? Creeps.

— laiz (@hellolaiz) May 9, 2017
As a few Twitter users pointed out, had Millie gone the other way and worn something similar to say, Hailee Steinfeld (who looked bomb f*cking dot com, by the way) she would have been scrutinised in the media for her look. Not only that, but imagine what seeing yourself on a worst dressed list would do for the self esteem of a thirteen year old girl?
Now don't get us wrong, we LOVE a Best/Worst dressed list - particularly ones that are fresh out the Met Gala where a bad or mis-themed outfit will get you meme'd for weeks. But we think we can all agree that judging the "shapeliness" of ~children~ on the red carpet is crossing the line.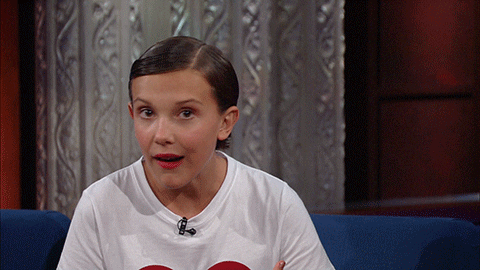 via giphy.com
____ ____ ____ ____ ____
Listen to the #PopBuzzPodcast with Niall Horan right here or subscribe for free on iTunes to get new episodes sent straight to your phone every Friday.