People Are Freeing The Nipple On Instagram But Not In The Way You're Thinking
14 June 2017, 14:25 | Updated: 14 June 2017, 16:11
The battle to #FreeTheNipple rages on.
Let's talk about nipples. Nipples are great. Everyone has them. Some people might have three. Everyone has seen someone else's at one point or another in their lifetime. What's the big deal? Honestly.
On Instagram, it's become common practice for women to find pictures that feature their nips get removed for "inappropriate content", while guys are free to roam around with their nips out and post topless shots wherever they like. Chrissy Teigen once had her snaps removed from the platform for freeing the nipple in a photoshoot, yet Matt McGorry who actually photoshopped female nipples on to his own nipples to prove a point was able to get away scot-free.
And those double standards are all thanks to a 'Nipple Ban' in place on the social networking site. (Apparently, the uncensoring of female nips would violate the age rating on the App store. Meanwhile, Twitter and Tumblr - also available on the App Store - are out here with their porn sites and no one is batting an eyelid.)
ANYWAY, there has been an advancement in the #FreeTheNipple campaign on Instagram and it's quite the spectacle.
Nail Artist Mei Kawajiri is out here painting nipples on nails. Yes. Nipple Nail Art has arrived.
They come in all different shapes, sizes and colours and look - some even have piercings!
Ok, so they're not real nipples but this is what it's come to. Literally every single nipple, including nail art nipples, are acceptable on the platform EXCEPT THE ACTUAL FEMALE NIPPLE. Now, how many more creative and inventive ways can we get round the Nipple Ban before they finally cave?
#FreeTheNipple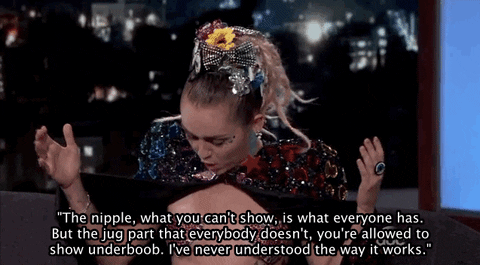 ABC via giphy.com
____ ____ ____ ____ ____
Listen to the #PopBuzzPodcast with Jake Johnson and Annabelle Wallis from The Mummy right here or subscribe for free on iTunes to get new episodes sent straight to your phone every Friday.