There's A "Suicide Squad" Hair Dye Collection And We Needed It Like, Yesterday
14 July 2016, 12:38 | Updated: 8 May 2017, 17:09
YAAAAS! Harley Quinn vibes on LOCK!
You've already heard the news of a clothing drop at Hot Topic later in the month but THIS is truly the news we've been waiting for. Are you ready to get your Harley Quinn hair vibes on for the summer?! BECAUSE GUESS WHAT...
Splat, which is a hair colour brand, is releasing a 'Suicide Squad' collection that will include 11 different colours inspired by the characters of the summer blockbuster movie.
OH MY GOD.
The collection includes the two tones of Harley's signature lewk - Pink Fetish and Blue Envy, and they're expected to be the biggest selling.
The other shades include Purple Desire, Lusty Lavender, Crimson Obsession, Bleach, Luscious Raspberry, Berry Blast, Aqua Rush, Pink & Blue, and Scream Green. And they each come with a different special edition comics, which you'll desperately want to collect.
Here's the dye in action:
Pink Fetish and Blue Envy at work...
Crimson Obsession is ~definitely~ worth obsessing over.
Bad news though - they're not available in the UK! *cries* If you're in the US, they will be sold at Wal-Mart, Target, Walgreens, CVS, Rite Aid and Hot Topic. And they'll be selling out FAST! Looks like that Harley glo-up will be happening for us sooner than we expected!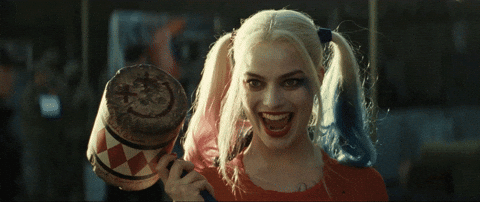 via giphy.com / Warner Bros.