Umm, Urban Outfitters Just Got Caught Selling Primark Clothes In Their Vintage Section
21 April 2017, 16:39 | Updated: 8 May 2017, 17:09
Ohhh, Urban Outfitters... what are you like?
Urban Outfitters' Urban Renewal section is both someone's absolute dream and someone's worst nightmare. When you find a great authentic piece, it's like hitting the fashion jackpot. A throwback college sweater? Yes. Some distressed Levi jeans? Holla. A faux fur coat that looks brand new? We'll fight you for it.
But with the treats, come the tricks as someone recently found out on their latest shopping trip to UO. Everyone knows that there can be a few rogue items in the "vintage" section but while they were having a browse in the Urban Renewal section of the store, they came across a shirt from British high-street brand Primark.
pmsl urban outfitters x primark collab pic.twitter.com/NsmryXs10m

— cal (@sortafucked) April 17, 2017
Now, if you're not familiar with Primark, it's a pretty cheap store where you can pick up everything from dresses and shoes to pomegranate- scented flamingo-shaped candles and lace underwear with Pokemon on them. Cedar Wood State is one of their in house brands. A flannel shirt, as pictured, will set you back about £12. Not the suggested £45 price tag that UO has appeared to slap on a shirt that is clearly not vintage.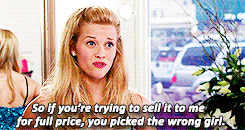 via giphy.com
Urban Outfitters was contacted in response to the discovery and here's what they had to say:
"While we cannot authenticate the photo in question, we take all customer feedback very seriously. We are determining whether the shirt was possibly obtained through a bulk purchase for our Urban Renewal Vintage and Remade program, through which our designers tailor vintage clothing and make each piece one-of-a-kind.
We are reviewing our limited UK Urban Renewal Vintage and Remade inventory, and any non-vintage pieces will immediately be pulled."
Nightmare if true.
itsdyo / via giphy.com
____ ____ ____ ____ ____
Listen to the #PopBuzzPodcast with Secret Midnight Press' Ashley Dun & Jesse Cale and Carmen Carrera right here or subscribe for free on iTunes to get new episodes sent straight to your phone every Friday.