Zendaya's New Grammy Hairstyle Made More Of A Statement Than You Think
16 February 2016, 16:07 | Updated: 8 May 2017, 17:09
All in the name of Bowie and beyond.
Zendaya?! At the Grammy's??!! On the red Carpet!!!? ALL SIGNS POINT TO YAAAAAS! But as she hopped out the car on Monday night the collective sigh of Twitter could be heard around the world because THIS happened...
Yes. A mullet. An actual real life, moving Mullet.
At first, some people were literally NOT here for it...
Zendaya just showed up to the Grammys with a mullet like girl whyyyyyy

— Nicole Nehiley (@nehileynicole) February 15, 2016
Zendaya will always slay but why is she rocking a mullet at the #GRAMMYs??

— Edelin Silab (@edelinsilab) February 15, 2016
Alright when someone has a great explanation for why zendaya has a fckn mullet at the Grammys, let me know.

— Alex Burzynski (@AleexandraLeigh) February 15, 2016
While others were super into it - and after Z herself revealed the inspiration, it got even more attention...
I love that @Zendaya is the only person in the entire world that can pull off a mullet. #RESPECT #GRAMMYs pic.twitter.com/NlhilwPzdz

— Chelsea Briggs (@Chelsea_Briggs) February 16, 2016
Zendaya is blowing me away with her Bowie tribute. this woman is a fashion icon for her courage and strength alone!

— Katy (@StayingLawdy) February 16, 2016
zendaya's mullet is a david bowie tribute. she's in the clear.

— TEN TEN TEN (@TennyRudolph) February 16, 2016
(So... you're saying it wasn't an unlikely offbeat tribute to the great Billy Ray Cyrus? We're kinda sad now.)
But, artistic tributes and inspiration aside, it's kind of a huge statement for Zendaya to rock up in such an outfit, particularly after the Oscars Fashion Police fiasco of 2015. Think about it - Z is known for turning up to a red carpet, oozing all the glamour that is expected of a young Hollywood starlet. But turning up to music's biggest night wearing an androgynous tuxedo, with the ultimate white guy hairstyle after all the commentary surrounding her dreadlocks at the Oscars?! It's a hell of a statement to make in regards to femininity and race, and it's an absolute GAMECHANGER.
Just like her inspiration Bowie, Zendaya blurred the line between conventional gender norms for a lot of people on social media last night, and proved that she remains a force to be reckoned with.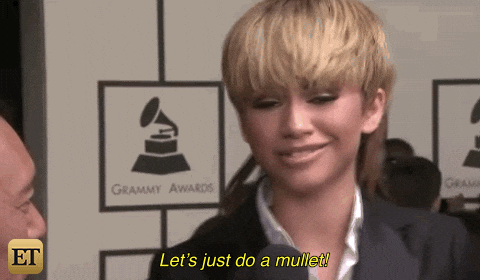 So, did Zendaya manage to pull off a mullet? Yes but also no. And neither did Rihanna that one time either. Mainly cause it's a hairstyle that should be banished to the depths of hell, tbh. But never forget that she will forever slay the f- out of everyone else on a red carpet for the rest of her existence, regardless of what society has to say about it.
Carry on, Z.