Zoella Accidentally Wore This T-Shirt With A HUGE Sexual Innuendo On It And No One Can Cope
1 August 2017, 14:00 | Updated: 15 November 2018, 15:27
Bit personal there babe, everything alright?
The most iconic and unintentional Zoella fashion moment just happened and my god, once you see it, you'll never be able to unsee it... and then when you look at it again, you're going to howl with laughter.
Zoe uploaded a brand new video a few days ago (July 30) where she tried on a bunch of outfits that had been selected for her by boyfriend Alfie and throughout the ENTIRE thing, she was wearing a t-shirt with the slogan 'I can't come out tonight, I'm busy.' Very innocent, very ~relatable~, very aesthetically pleasing but something unfortunate happened during the filming which resulted in what might be the most funniest fashion faux pas YouTube has ever seen.
After Zoe uploaded the video, one fan concerned about the good sis' wellbeing, asked her if the caption on her shirt was a subliminal cry for help.
@Zoella @PointlessBlog Zoe is this a cry for help ooooor..? #hershirt pic.twitter.com/USCj5BYIHr

— Mathilde Hansen (@Fimpemkh) July 30, 2017
Eveeeerybody lost their sh*t, including Zoe herself who didn't even notice the hilariously unfortunate caption cut off while editing the video.
OMG I AM DYING!!!! https://t.co/iniYmtehms

— Zoë (@Zoella) July 30, 2017
I did a really horrible dirty laugh

— Lily Melrose (@llymlrs) July 30, 2017
It's okay Alfie you're trying pic.twitter.com/sbzNziCgX0

— Hannah (@hannahffs) July 30, 2017
I'm fucking crying

— Sharon (@HarryIsMarvel) July 31, 2017
July 31, 2017
I was thinking the same thing but wasn't gonna say it...

— Casey (@idoLIZe_ARI) July 30, 2017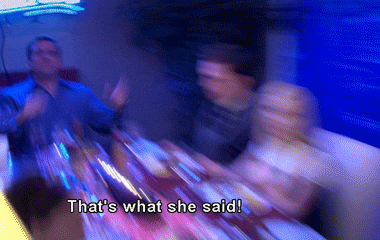 NBC
If you want to buy Zoe's t-shirt for you own personal 'That's What She Said' selfies, you can find it at Missguided in their BarbiexMissguided collection.
Missguided
____ ____ ____ ____ ____
Listen to the #PopBuzzPodcast with Louis Tomlinson right here or subscribe for free on iTunes to get new episodes sent straight to your phone every Friday.