Here, Have A Swedish Children's Song About Genitals To Get Stuck In Your Head
13 January 2015, 12:01 | Updated: 8 May 2017, 17:09
Popi-dopp-pop snippedi snopp.
CUTE SWEDISH FACT #1: The kid-friendly words in Swedish for "penis" and "vagina" respectively are "snopp" and "snipp".
CUTE SWEDISH FACT #2: Apparently Swedish genitals are anthropomorphic and like to dance.
These are some of the many things we learned from "Snoppen Och Snippan", this adorable Swedish song aimed at children to teach them all about genitals.
Teach them what, you ask? That we, um, haven't quite figured out yet. Translated, the first couple of lines include the phrase "Here comes the penis at full pace". So, y'know, make of that what you will.
The song and animation were produced for kids' TV show Bacillakuten on Swedish channel "SVT Barnkanalen". As the indecipherable yet infuriatingly catchy song has picked up attention from non-Swedish-speaking countries, the video has already grabbed over a million views apiece on both Barnkanalen's Facebook page and YouTube channel.
Hilariously, the mixed response on Facebook to the song has caused channel reps to step in and remind people that kids follow their page, so "think about how you express yourself".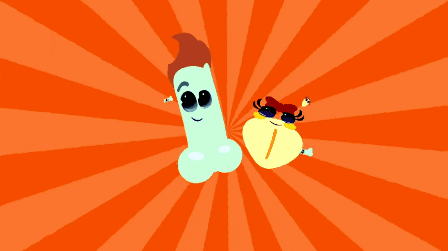 Meanwhile other lyrics in the song include "the vagina is cool, you better believe it, even on an old lady. It just sits there so elegantly."
Well, they're not wrong.