10 Artists We'd Also Like To See Cover All Of Taylor Swift's "1989"
7 August 2015, 12:15 | Updated: 8 May 2017, 17:09
Ryan Adams is doing a whole cover album for Tay and we have some other suggestions.
The internet is abuzz today with the news that country star Ryan Adams is working on an entire cover album of Taylor Swift's 1989. Reactions from Swifties have ranged from "Who?" to "OMG look how excited Taylor is she's such a dork".
@hasief @TheRyanAdams is this true??????? I WILL PASS OUT.

— Taylor Swift (@taylorswift13) August 6, 2015
@TheRyanAdams Cool I'm not gonna be able to sleep tonight or ever again and I'm going to celebrate today every year as a holiday. I'M CALM

— Taylor Swift (@taylorswift13) August 6, 2015
While we're excited for the end result of Ryan's "Smiths-inspired" rework, We do have to wonder: What other artists could deliver their own amazing version of Tay's biggest album yet? Here are just a few suggestions...
1) Lorde
The goth-pop queen has pioneered her own signature sound, and we REALLY want to hear her cover some Tay.
2) Michael Bublé
This guy is no stranger to putting out albums entirely of covers so, just, why not. Can you imagine "Bad Blood" reworked as a jazzy lounge track though?
3) Pentatonix
P L E A S E.
4) Fetty Wap
"The haters gonna hate, hate, hate, WE JUST CALL THEM FANS THO"
5) Screaming Females
We've already heard this punk trio's killer version of "Shake It Off", and now we kind of need the whole thing.
6) Hollywood Vampires

Alice Cooper and Johnny Depp's super-rock-group of old guys are releasing an album in September. IT BETTER BE THIS.
7) Zayn Malik
What better way to kick off your fabled solo career than with a cover album?...No?
8) Foo Fighters
We already know that Dave Grohl is a big Swiftie; how great would it be to hear him screaming along to "Blank Space"?
9) Johnny Karate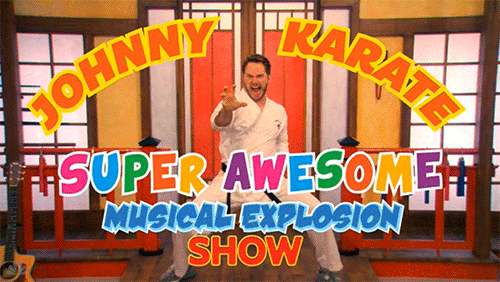 Andy Dwyer's alter-ego in Parks & Rec could definitely do a killer kid's version, and nobody would be any the wiser.
10) Katy Perry
Imagine it though. Just imagine her doing the whole thing in like a whiney, mocking voice. Come on, it'd be hilarious.
Any other suggestions for who could do a 1989 cover album? Leave them in the comments.