Pray For Taylor Swift, Who May Never Recover From Her 25th Birthday Party
13 December 2014, 12:07 | Updated: 8 May 2017, 17:09
Seriously, RIP Tay.
When historians look back at the Wikipedia entry for 2014 years from now, they'll only see one thing: a huge dancing GIF of Taylor Swift with the message, "RIP Me". Because, let's face it, Taylor killed 2014 so badly that 2015 will probably be too scared to even happen.
And that was before her 25th birthday party even started, which, according to the photograph Taylor just uploaded on Instagram, included Beyonce and Jay Z as guests. Oh, and Justin Timberlake, who even dressed as the pile of poo emoji was still the hottest person in the room.
I mean, where are we supposed to begin with this photo? How does one send out a birthday invite that, even if you take Beyonce, Jay and Justin out of the picture, still includes Sam Smith, HAIM and Karlie Kloss?
And more importantly, did Jay Z stay in the same position for the entire evening?
In what seems to have been Taylor's attempt to throw a party that was bigger than a Grammys guestlist, last night's event at her New York apartment was also attended by Michael and Luke from 5 Seconds Of Summer, who arrived with a bear. Because, why not?
Michael calum and Luke arriving at Taylor swift's birthday party yasss pic.twitter.com/8hqorOdj1u

— Punk Rock Updates (@5SOSWWReports) December 13, 2014
Nick Jonas, Selena Gomez and model Chrissy Teigen also attended what is quite possible the birthday party of the century.
Taylor also shared a photo of her blowing out the candles on her birthday cake, which she did with all the grace and delicacy of a tornado in a Disney movie.
Oh, and BFF Lena Dunham bought her a charm necklace with her cat Olivia Benson in.
If, like me, you're starting to think the only thing that could top this would be Aretha Franklin personally singing "Happy Birthday", then I hate to break the news to you but that happened to Taylor as well a few hours earlier at the Billboard Women In Music awards.
Aretha Franklin just sang 'Happy Birthday' to me and it will take me decades to recover. #goals

— Taylor Swift (@taylorswift13) December 12, 2014
Aretha was accompanied by Jessie J, Charlie XCX, Hayley Williams and Ariana Grande, who was actually meant to sing as well, but presumably heard Aretha's first "happy" and didn't want to compete with seven decades of history.
We should probably all pray for Taylor right now, and then stare at this picture of Meredith, who's definitely got the look of a cat who failed to get an invite. Just like the rest of us.
RIP everyone.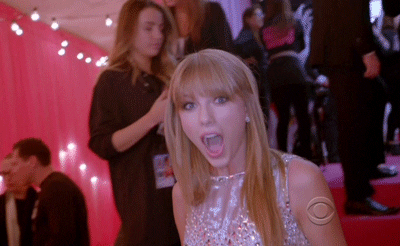 More Taylor: