The Fine Bros. Are Here To Ruin Your Day With 50 Movie Spoilers In 5 Minutes
18 February 2015, 17:06 | Updated: 8 May 2017, 17:09
RUDE.
Let's face it. You didn't see every major movie that came out the past year. It's okay, we didn't either. And whether you plan to get round to it eventually, or just don't care, determines how you'll react to the Fine Bros' latest video. Because SPOILERS: They're posting spoilers.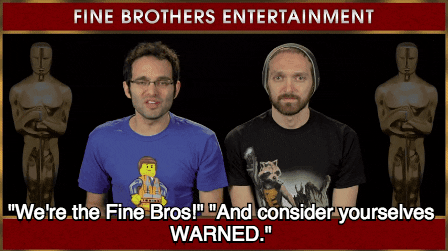 The legendary YouTube duo are either about to ruin your life or provide a public service, by divulging the major spoilers of fifty different movies that all came out in 2014. Yessir, no Bruce Willis ghosts or Darth Vader parentage here, this stuff is fresh. We couldn't make it past the first minute without being spoiled.
They blast through the spoilers so quickly that you might not even realise you've been spoiled until it's too late. so PROCEED WITH CAUTION.