7 Reasons Why Madonna's Fall Wasn't The MOST Awkward Thing At The Brits
26 February 2015, 12:29 | Updated: 8 May 2017, 17:09
Sure, that was an awkward moment, but the show was just full of them.
#FallenMadonna and #NoCapes are just two of the hashtags still trending this morning, after Madonna's onstage crash at last night's Brits.
But while many are labelling it as the Ultimate Awkward Moment, to us it was just kind of... sad. However, there were plenty of other cringeworthy nuggets that took place throughout the night. Plenty moments of terrible onstage chemistry, awkward dancing, and clashing personalities.
We can't just highlight the entire night as one big awkward moment though (as much as we'd like to), so here are a few cringey highlights from the night:
1. Lewis Hamilton's attempts at "witty banter" on the stage.
Lewis' hosting career was guaranteed to come last before it even left the starting grid. The F1 driver took to the stage with co-presenter Ellie Goulding, and proved that his driving talents are pretty much restricted to cars, not crowds.
"Little bit louder? No?" he murmured, before trying his best to exchange some quips with Ellie about her dress. She tried to save his rubbish "wedding" joke as best she could, but it was obvious this pairing had hit the brakes.
2. Orlando Bloom and Rita Ora, just... what.
"Weird men ruining stagetime for cool women" seems to be the running theme of this year's Brits. Apparently Orlando Bloom's way of telling Rita Ora "I like your outfit" is to give her the ol' looky-loo and say "Let's just hope we don't have a wardrobe malfunction". Luckily she handled it way better than most. Stay classy, pal.
3. Simon Cowell's self-satisfied acceptance speech for 1D.
One Direction's win for the night was fan-voted British Artist Video of the Year. The boys were in Japan, so record label overlord/weird proud surrogate dad-type Simon Cowell took the opportunity to hop on stage on their behalf and start off with a smarmy "Sam [Smith], you can't win everything tonight." RUDE.
4. Taylor Swift dancing to her own beat during "All Day".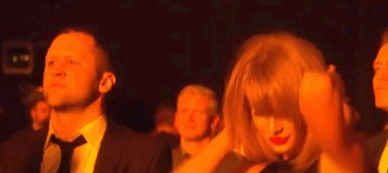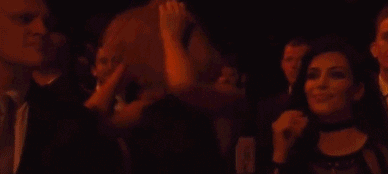 Taylor's wacky-award-show-dancing aesthetic is usually our fave, and it's great to see that she has squashed her beef with Kanye. But it seemed as though last night she had a need to play both of these things up a bit, and as the Best Female Artist winner jammed along to Kanye's performance of new track "All Day" while standing next to a slightly uncomfortable Kim Kardashian, she seemed to fall a liiiittle bit out of synch with the feel of the song. Shake it off, Tay.
5. Jimmy Carr's jokes falling flat like four times.
Seriously, what is it with this show and terrible onstage chemistry between male/female hosts? Pro-tip for Jimmy Carr: Never try to upstage Karlie Kloss. Especially when the model is looking super-glam and towering over you, while you try to crack weird obscure jokes about men and women sharing toilets.
Also, making fun of Madonna's age just seconds after referencing long-dead music show CD:UK? Bit out of touch there, Jim. No wonder Karlie looked increasingly like she wanted to sashay out of there.
6. Kim Kardashian's selfie fail.
For someone so well versed in the art of the selfie, you'd think that before posing with Ant and Dec, Kim would at least have remembered Step 1 of the process; which is "unlock the phone". NOPE.
This video brings us to our most noteworthy awkward moment...
7. Ant & Dec doing everything ever.
"Nice to see these two back at the Brits!", said the British public gleefully, conveniently forgetting that switching on ITV after 7pm on literally any day of the week will guarantee you a fix of the Geordie presenter pair.
Ant & Dec have been the pillars of British presenting for the past 80 years, but still live events still don't seem to be their forté. They seemed to have a tough time getting a rise out of the audience.
Ant and Dec are those awkward uncles that have no idea how to make conversation with other people.

— Colin (@omgitsc) February 25, 2015
I feel uncomfortable about how unfunny Ant and Dec are being

— Amy Louise Summerton (@amesummerton) February 25, 2015
If you can bear it, watch how uncomfortable they were after Kanye's annoyingly muted performance of "All Day":
Yeesh. Stick with Saturday Night Takeaway, guys.