6 Reasons Why "Only" Is Nicki Minaj's Weirdest Video Yet
12 December 2014, 13:51 | Updated: 8 May 2017, 17:09
Prepare yourself.
The music video for "Only" has had an interesting journey so far. Nicki famously caught heat for what seemed like Nazi imagery in her lyric video and her latest effort is rife with all sorts of oddities.
1) Torture scenes.
Likely a case of poor timing and not just bad taste, the torture scene at the start of the video comes at a time when the CIA is facing serious allegations about their interrogation practices. It's odd that they wouldn't just cut this scene from the video considering it doesn't add much to the storyline and it's just kind of…meh. 2) Drake/Chris Brown feud makes for some awkward shooting.
This is kind of conjecture based, but it comes from an extensive study of Drake's feuds. In the video Lil' Wayne, Nicki, and Drake all rap together in the same room. Cut to the chorus sections and Chris Brown is all cordoned off like a person who needs to be cordoned off from Drake. This sort of thing happens occasionally when there is schedule clash, but more likely than not, it's a Drake thing. And don't forget that Drake also famously had a relationship with Chris' ex, Rihanna so these guys probably hate each other so much. Where the hell are you, Chris?
3) How much Drake wants (and seemingly needs) to be in a relationship with Nicki Minaj.
Someone please help Drake date Nicki. I think he really needs this. 4) This insane Beats product placement.
A prisoner is wheeled out in front of Nicki. He has a beats pill stereo around his neck (most prisoners do these days). Without question or a hint of hesitation, Nicki presses play. [End scene] 5) Whatever is happening here.
Not only does Chris Brown have to stand in a dark room by himself with that silly looking facial hair, he also has to do scenes that make him look like a cookie lost in a glass of milk. 6) The shape Drake thinks women's bodies are.
The fact that Drake tries to make an hourglass figure with his hands but just ends up forming a circle. That's not….the shape of bodies, Drake. "I like my girls BBW," raps Drake. In this instance, BBW stands for Big beautiful wheels.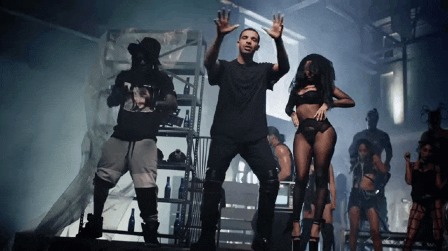 Watch the video below and count how many oddities you can spot.