69 Thoughts You DEFINITELY Had While Watching The "AHS: Cult" Finale
15 November 2017, 14:17
Cause of death: Sarah Paulson in a red pant suit.
And just like that, another season of American Horror Story has come to a mind-blowing end. This final episode of Cult was literally the most stressful thing we've watched all year and we had a LOT of thoughts. In fact, you probably had the exact same ones too.
Ready to relive Kai Anderson's final on screen moments and admit that this was easily one of the best seasons of AHS we've seen in a long time? Pinky swear. Good. Let's do it. ONE LAST TIME.
***SPOILERS AHEAD***
1) Ok. I'm ready for this torture to be over.
2) (I'm high-key not ready for this torture to be over. Please don't leave me, AHS.)
3) Before we start, can I just say this has TRULY been the best season since Asylum... For real. Just the facts.
4) Oh good, Kai is in jail. I can finally get a good night's sleep.
5) Scratch that. How has he managed to manipulate the damn prison guards too?! How does he have MORE power behind bars than he did on the outside?
6) YES BEAT HIM UP BUT DON'T KICK EVAN'S FACE! PLEASE! ANYWHERE BUT THE FACE.
7) "Send a letter to my girlfriend." "What's her name and address?" "You don't know your own mothers name and address?!" GAGGING.
8) 2m 44s into AHS: Cult and chill and we already have a body count of two.
9) The hallucination of Charles Manson is actually the best character Evan Peters has EVER played, don't @ me.
10) Also, I just wanna take this moment to mention that one vein on Evan's left arm… A work of art. Renaissance artists are shaking.
FX
11) "We have more corpses in our future." OH NO SIR, NO WE DON'T. NOT ON MY WATCH.
12) *breaks it down to that iconic AHS theme tune one last time*
13) Honestly, how the FUCK has Kai managed to form a cult inside a jail?! How did he bypass the gangs?! And HOW has no one stopped him?!
14) This is all Gloria's fault. I blame her for everything. She's a shitty prison guard.
15) Killing 1000 pregnant women? Excuse me?
16) AND ALLY IS IN ON IT?! She's facilitating this? I'm gonna start swinging. What is the good sis up to!?
17) I am literally Beverly after 11 episodes of this season. Please put me out of my misery.
18) Speedwagon reaaaaally thought he could get awa—
19) OH MY GOD SHE STABBED HIM IN THE THROAT!!!!!!
20) I'm sorry, the old Ally can't come to the phone right now. Why? Oh - because she's A FUCKING PSYCHOPATH.
21) Full disclosure: Ally leaving to get "snacks" is literally the same line I use to try and leave every party I've ever been to before 11pm.
22) THIS IS A CASE FOR THE FBI.
FX / E!
23) Ally literally could have done this like 4 episodes ago and yet... UGH, whatever. I'm just glad his ass got caught.
24) YOOOOOO BEVERLY WITH THAT HANDGUN COME THROUGHHH!
25) Beverly is one true unsung hero of this entire season. I don't wanna see another season of AHS unless Adina Porter is in it.
26) So she shopped Kai to the FBI but she murdered Speedwagon *and* murdered her own wife… Sounds fake but ok.
27) OH, SHE GOT IMMUNITY?! SO SHE WAS KILLING PEOPLE KNOWING SHE'D GET AWAY WITH IT BY PINNING IT ON HIM? Oh, this is twisted… This ain't right.
28) Hang on a sec - is she lying? I don't trust her anymore. I don't ANYONE on this god damn show.
29) And she's got a new girlfriend already? Wow, ok. You steal Ivy's restaurant and then you replace her within the space of what? Less than a year? To be fair, she was a snake. And she DID have it coming. Next.
30) *chokes* LANA WINTERSSSSSS!!!!!!!!!!!!!!!
31) Please say yes. Please say yes. Please say yes. Please say yes. Please say yes. SAY YES ALLY FOR CHRISTS SAKE.
32) Sarah Paulson sitting down to talk to Sarah Paulson would have been the most iconic scene to have EVER graced AHS but Sarah Paulson ruined it. Good job, Sarah Paulson.
FX
33) No, honestly... how is Kai getting access to these unlimited nights and weekends phoneca—
34) DIVINE RULER?! GLORIA?!?!?!? Oh wow, I trusted you.
35) Ummmm... Do guys need anything? Some snacks? A condom? (*whispers* What the fuuuuuuuuuuuck?!)
36) On a scale of one to Ally crying over Ivy's death and then leaving flowers on her grave, how much of a fake ass are you?
37) She's running for Senate? WHAT?!
38) By the way, can you believe Ally Mayfair-Richards invented character development?
39) OMG RIMSHOT NO! You know what? Of all the people on this show, Rimshot was the only one who didn't deserve this. Poor cult boi.
40) CUT OFF HIS FACE?! ARE YOU KIDDING ME?!!!!!?? WHAT AM I WATCHING?!
41) I have watched some real messed up stuff on this show in my time but this actually might have gone too far to me.
42) Did Kai have access to HBO in prison? Has he been binge-watching Game of Thrones? He's gone full Arya Stark.
43) A psychopathic Trump-voting Manson-stanning murderous cult leader has no name.
44) Cause of death: Sarah Paulson in a red pant suit.
FX
45) There's 6 minutes left of this episode and nothing has been solved. I'm so scared. I have so many questions.
46) NASTY WOMAN KLAXON.
47) Oh come on... Kai doesn't have the guts to shoot Ally. Does he?
48) The gun wasn't loaded? THE GUN WASN'T LOADED!
49) *spits out drink* SHE INFILTRATED GLORIA TOO?!
50) How Ally went from a screaming lil' baby afraid of holes and clowns to a legend who had mapped out Kai's ENTIRE prison escape game plan... that is the level of growth I aspire to.
51) SHE REALLY TOOK ONE FOR THE TEAM!! I take back everything I said. Gloria, I'm so sorry sweetie. (She went DEEP undercover though, didn't she? God damn.)
52) "Don't just stand there and stare at me… SAY SOMETHING!" OK FINE, I WILL: EVAN PETERS DESERVES SEVERAL AWARDS FOR THIS ROLE AND I WON'T REST UNTIL HE HAS THEM IN HIS HANDS.
53) And the nominees for Outstanding Actor in a Limited Series or Movie are: Evan Peters for AHS: Cult, Evan Peters for AHS: Cult, Evan Peters for AHS: Cult, Evan Peters for AHS: Cult and... Evan Peters for AHS: Cult.
FX
54) HE'S DEAD! BEVERLY! A GUN! IN THE HEAD! I'M SCREAMING.
55) Wow, that shot was so intense I feel like the blood splattered me through the damn screen.
56) Serious question: how is Oz not severely fucked up in the head? I know he's not as oblivious as he's making out to be. He must know something, surely? I still don't trust him.
57) *sighs* I really thought he was gonna pull a savage stunt. Alas, he was just an ordinary child, minding his own business. SAD!
58) Hang on a second - what happened to all that chat about Twisty? How was he even relevant to this season in the first place? I HAVE QUESTIONS.
59) I just realised. This is the first season without Lily Rabe. The streak is broken. I am broken. Leave me to die in peace.
60) Did she— is she— does she mean?
61) "A GROUP OF POWERFUL EMPOWERED WOMEN?"
62) LIKE A COVEN?!
63) Someone get my extra strong wig glue because she is about to FLY.
64) PACK YOUR BAGS WITCHES, WE'RE GOING TO NEW ORLEANS.
65) Wait - cancel my flight. Is that? Ohhhh... is that the green cloak from Bebe? IS SHE SCUM NOW?!
66) NO! STOP! WHAT JUST HAPPENED?! WHY AM I LEFT WITH 74 QUESTIONS INSTEAD OF 74 ANSWERS?! RYAN?!
67) What does this mean? Who is she meeting with? Is she just leaving Ozzy in that house alone? After everything that's happened? What will happen to the bodies in Kai's personal morgue? What was that green smoke? SERIOUSLY, WHAT DID TWISTY HAVE TO DO WITH ANY OF THIS?!
68) I actually kind of miss the clowns now...
69) Well, that's the end of that. Pour one out for all the new characters we've loved and lost. Except Ivy. She can still choke.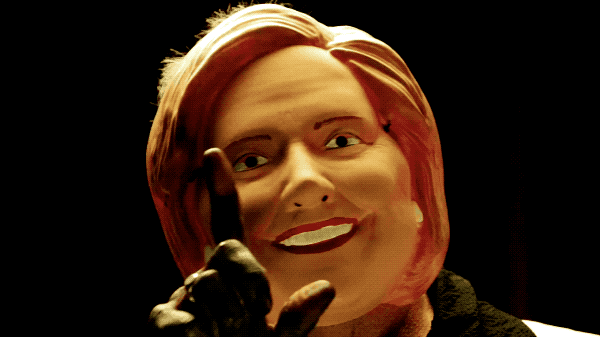 FX
___ ___ ___ ___ ___
Haven't you heard? We've got a brand new TV SHOW on Twitter… Watch it LIVE on Thursday at 5pm GMT right here! #PopBuzzPresents