American Horror Story fans shocked by Kim Kardashian's acting in new AHS: Delicate trailer
7 September 2023, 13:18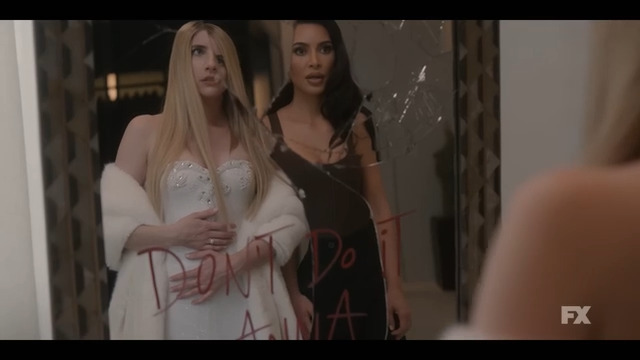 Kim Kardashian makes acting debut in AHS: Delicate trailer
Kim plays Siobhan Walsh in AHS: Delicate – and she's giving Kris Jenner momager vibes.
At long last, the American Horror Story: Delicate trailer is here – and so is the first look at Kim Kardashian in her starring role.
AHS: Delicate is set to be released in just a few weeks and fans have now been given their first taste of what to expect in a brand new teaser.
Led by AHS staple Emma Roberts, Delicate sees Kim take on her first acting role. When she was cast in the show, long-term fans of the series and the internet at large were... skeptical, to say the least. With no major acting experience, many wondered why Kim had been cast in the show.
Kim has shared that she'd been taking acting lessons while shooting the show, and Ryan Murphy has also praised and lauded her involvement in the new season.
But will she actually be any good? Fans have been reacting to the trailer and, yes, people are divided, but Kim's appearance looks like it's drummed up quite a bit of excitement for the show.
READ MORE: Sarah Paulson says she doesn't like AHS: Roanoke and wishes she wasn't in it
In AHS: Delicate, Kim plays Siobhan Walsh, a friend of Emma Roberts' Anna with major momager vibes.
While world-famous actress Anna, who is desperate to have a baby, begins to grow paranoid over a creepy, mysterious woman (Cara Delevingne) that keeps following her, the power-suit clad girlboss Siobhan is in Anna's ear making sure she also stays focused on her career.
Siobhan is also flanked by two American Horror Story icons, Billie Lourd and Leslie Grossman, who appear to be playing two of her associates.
Even in the short two-minute teaser for the new season, Kim has surprised fans with her acting skills – and they're kind of shocked at how much they're low-key enjoying what she's about to bring to the table.
Of course, there's still some fans who are apprehensive about Kim's involvement (and performance), but we'll have to wait and see how it all unfolds when the first episode drops...
AHS: Delicate, which is the series' 12th season, will be the first season of the anthology to be based on a novel: Delicate Condition by Danielle Valentine. Valentine has said that both Alien and The Silence of the Lambs acted as direct inspirations for the book, and the show is already giving off strong Rosemary's Baby vibes.
It's currently unclear if it will contain any references or callbacks to previous AHS seasons, or if it will be completely stand alone.
Alongside Emma Roberts and Kim Kardashian, Delicate also brings Billie Lourd, Leslie Grossman, Denis O'Hare and Zachary Quinto back into the AHS mix. Cara Delevingne, Michaela Jae Rodriguez, Matt Czuchry, Annabelle Dexter-Jones, Julia White and Odessa A'Zion also appear.
AHS: Delicate (Part One) will be released on September 20th.
Olivia Rodrigo vs. 'The Most Impossible Olivia Rodrigo Quiz' | PopBuzz Meets