American Horror Story season 12: Release date, theme, plot, cast and more
2 May 2023, 09:38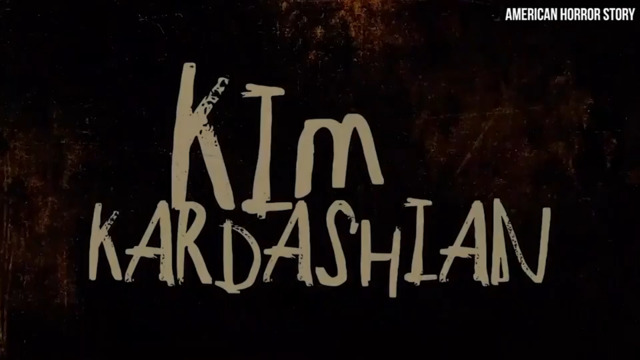 Kim Kardashian to join cast of American Horror Story
American Horror Story season 12 will be based on the upcoming novel Delicate Condition. Here's everything we know so far.
After a more-mysterious-than-usual eleventh season, American Horror Story season 12 looks set to arrive earlier than expected – and the plot and cast has already been revealed.
For the first time in AHS history, season 12 will be based on a novel, and will not feature any writing from co-creators Ryan Murphy or Brad Falchuk. It will feature one sole writer, Halley Feiffer, who has previously written on and produced American Crime Story.
The new season will also see Emma Roberts returning as the lead, alongside Kim Kardashian in her first scripted TV role. No other cast members have been revealed just yet, but knowing AHS, some familiar faces could be announced soon.
Murphy has described the new season as "unlike anything we have ever done," so with that in mind, here's everything we know about American Horror Story season 12 so far...
American Horror Story season 12 release date: When does American Horror Story season 12 come out?
There's currently no confirmed release date for AHS season 12, but Ryan Murphy has confirmed that it will premiere in the summer of 2023. That means fans could be looking at an August release date, mirroring Double Feature's early premiere.
Filming begins in May 2023. We'll update this article with more information as soon as it arrives.
What is the American Horror Story season 12 theme?
It's not been officially confirmed yet but AHS season 12 is reportedly titled AHS: Delicate. According to Murphy, "this season is ambitious and unlike anything we have ever done."
For the first time in the horror anthology's history, it will not be an original story. Instead, it will lean into source material and will be partly based on Danielle Valentine's upcoming novel Delicate Condition. It will also be written and show-run by a single writer, Halley Feiffer.
The novel is set to be released on August 8th, but it's currently unclear if season 12 will air before or after then. If the book is released first, fans will have more of an idea of what to expect in the new episodes.
American Horror Story season 12 plot: What is AHS 11 about?
The exact plot of the series is still being kept under wraps, but the blurb and the synopsis of Delicate Condition give plenty of hint at what fans can hope to see.
The novel is described as a gripping thriller about a woman who becomes convinced that a sinister figure is going to great lengths to make sure her pregnancy never happens. It's also been dubbed "the feminist update to Rosemary's Baby we all needed."
The book's synopsis reads as follows: "Anna Alcott is desperate to have a family. But as she tries to balance her increasingly public life as an indie actress with a gruelling IVF regime, she starts to suspect that someone is going to great lengths to make sure that never happens."
"Crucial medicines are lost. Appointments are moved without her knowledge. She's sure she's being followed. And when she finally does get pregnant, someone breaks into her house and steals the ultrasound photograph of her baby. But despite everything she's gone through, not even her husband is willing to believe that someone is playing twisted games with her."
Then her doctors tell her she's lost the baby. Despite her grief, Anna ignores the grave-faced men lecturing her - because she can still feel the baby moving, can see the toil it's taking on her weakened body. Isolated in a remote snowbound town, Anna is sure that whoever has been following her is closing in. And as her symptoms become more terrifying, she can't help but wonder what exactly is growing inside her... and why no-one will listen when she says that something is horribly wrong.
American Horror Story season 12 cast: Who is returning? Who are they playing?
Based on what's been shared so far, it looks like Emma Roberts will be back to take the lead on this season. AHS season 12 will be Emma's sixth season of the show, having previously starred in Coven, Freak Show, Cult, Apocalypse and 1984.
And in a surprise casting announcement, she'll be joined by... Kim Kardashian. (Yes, really!) Kim is set to star in the upcoming season, but it's unclear who her character will be and just how big of a role she'll end up playing.
"Kim is among the biggest and brightest television stars in the world and we are thrilled to welcome her to the AHS family," Murphy said in a statement. "Emma and I are excited about collaborating with this true force in the culture. Halley Feiffer has written a fun, stylish and ultimately terrifying role especially for Kim, and this season is ambitious and unlike anything we have ever done."
Cara Delevingne will also play a role in the new season. She's been pictured on set but her character details are still underwraps.
Here's the full AHS: Delicate cast list so far:
Emma Roberts
Kim Kardashian
Cara Delevingne
Matt Czuchry
Annabelle Dexter-Jones
MJ Rodriguez
Odessa A'zion
No other cast members have been announced just yet but we'll continue to update this article as more names are revealed.
Will Sarah Paulson be in American Horror Story season 11?
At the moment, there's currently no confirmation that Sarah Paulson will return for another season of AHS. Last year, Sarah expressed her desire to work on other projects, away from American Horror Story.
Speaking to Variety, Sarah said: "It's not that I'm not open to it. I'm always open to it, but I feel like I've been doing it for a long time, and people might start getting sick of me in that world. Let someone else scream and run and cry for a second. Other people can do that too!"
"Also, my nervous system. There was a time when I was younger when I was like, 'I can do this all night. I love it!' Now I'm like, 'Momma's tired!'"
Will Evan Peters be in American Horror Story season 11?
Much like Sarah, it seems likely that Evan Peters may sit this one out again too. After coming off an absolutely gruelling and difficult portrayal of Jeffrey Dahmer in Ryan Murphy's Netflix series, Evan has shared that he wants to take on more comedic roles and play a "normal person".
In an interview with Variety, Evan said: "I'm going to take a little break from darker roles and explore the light. It would be interesting to me to play something that is a little closer to home, a little more mundane and to explore the details of those kinds of experiences."
Is there a trailer for AHS: Delicate yet?
Not yet! The only promotional material that's been released so far is a short teaser confirming Emma Roberts and Kim Kardashian's involvement in the series.
Seeing as season 12 is set to begin filming in May, it will likely be a couple of months before we get any glimpses of the characters in action.
Bookmark this page for all the latest updates as and when they're shared.
Read more American Horror Story news here:
ATEEZ Spill Their Secrets In 'The Tower Of Truth' | PopBuzz Meets