Barbie Ferreira left Euphoria because she didn't want to be the "fat girl best friend"
4 April 2023, 16:08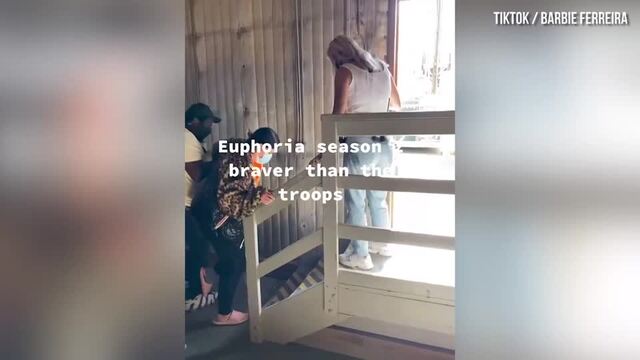 Barbie Ferreira breaks her ankle filming Euphoria
"Sam writes for things that he relates to. I don't think he relates to Kat."
Barbie Ferreira has opened up about why she left Euphoria and if there was really a fallout between her and Sam Levinson.
Taking to Instagram last year, Barbie Ferreira revealed that she had quit Euphoria. She wrote: "After four years of getting to embody the most special and enigmatic character Kat, I'm having to say a very teary eyed goodbye. I hope many of you could see yourself in her like I did and that she brought you joy to see her journey into the character she is today."
READ MORE: Euphoria's Barbie Ferreira calls out "backhanded compliments" about her body
The news came after there were reports that Barbie had disagreed with showrunner Sam Levinson over Kat's storyline in season 2 and walked off set twice. Now, Barbie has addressed the rumours and explained her side of the story.
Why did Barbie Ferreira leave Euphoria?
Speaking on the Armchair Expert podcast, Barbie said: "For me, when people ask me about season 2, it's usually they come at me like, I was some sort of victim to season 2 and I'm always like, 'No, it's okay, promise. It's good'. I kind of got sucked into this drama that I never asked to be in and that I've never talked about...Don't believe everything you read."
Barbie then clarified the rumours. She said: "I actually did not walk off set. I did sprain my ankle once and had to go get an X-ray. Maybe that's what they mean?" Barbie posted a video of her sprained ankle at the time. As for her exit, she said it was a "mutual decision".
Barbie continued: "I don't think there was a place for [Kat] to go. I think there were places she could have gone. I just don't think it would have fit into the show. I don't know if it was going to do her justice...I think both parties knew that. I really wanted to be able to not be the fat best friend. I don't want to play that. I think they didn't want that either."
Barbie also explained that seasons of Euphoria would take around nine months to film and she wouldn't be able to star in other projects at the same time. With Kat's storyline becoming smaller, it made sense for her to leave.
Going into further depth, Barbie said: "I feel like with season 2 and certain parts of it, I felt it was a kind of a struggle for both parties. Sam, me…it was a struggle to find the continuation of her. So that was actually really hurtful watching it and seeing the fans get upset. I just felt like maybe it's like I overstayed my welcome a little bit?"
Barbie added: "So, for me, it actually felt good to be like, 'Okay, I get to not worry about this and we both don't get to worry about this' because it's exhausting. Sam writes for things that he relates to. I don't think he relates to Kat. I like Kat so I get to go on my own path."
Barbie ended by saying: "It really has been a good thing."
Read more Euphoria news here:
ATEEZ Spill Their Secrets In 'The Tower Of Truth' | PopBuzz Meets