Euphoria season 3 may jump five years into the future and fans are confused
11 April 2023, 17:25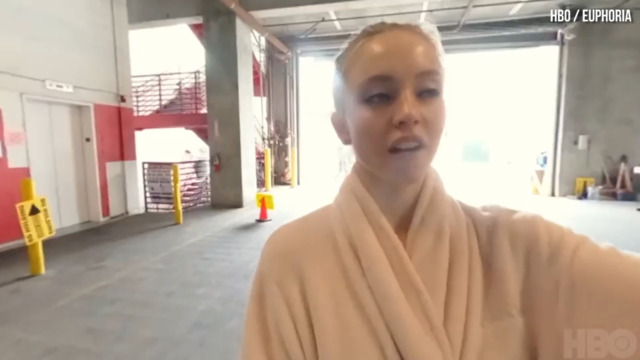 Sydney Sweeney gives Euphoria fans a set tour
Euphoria season 3 could start five years after the events of season 2 takes place.
We still have a while to wait until Euphoria season 3 comes out but it looks like the new season will include a big time jump.
Ever since the Euphoria season 2 finale aired in February 2022, fans have been desperate to know what happens next. Has Rue found a way to pay back Laurie for the $10,000 worth of drugs that she failed to sell for her? Is Fez now going to jail? Will we ever know what happened to Nate's unnamed mysterious younger brother? We still have so many questions.
It remains unclear whether or not season 3 will provide us with answers but it may take place fives years after season 2.
READ MORE: Barbie Ferreira left Euphoria because she didn't want to be the "fat girl best friend"
In a new Vogue interview, Euphoria costume designer Heidi Bivens opened up about what's to come in season 3. Heidi said: "There is talk of it being approximately five years in the future, and that they're not in high school anymore. Dorothy's not in Kansas anymore. I mean, it might be a total trip. Who can say?" Not in high school? The cast as adults? Say more.
Discussing showrunner Sam Levinson, Heidi then continued: "But knowing Sam's brain, it's gonna be exciting, and he will challenge all of us, because he won't want to repeat himself. It'll be something new for the audience to discover."
It's safe to say that fans aren't impressed by the news. One person tweeted: "the way he's most definitely doing a 5 year jump bc he don't know how to close out the other storylines he created…like rue owing that woman ha money."
Another wrote: "unreasonable and funny because with everything why would they keep in touch with each other."
People also compared the decision to the controversial time jump in Riverdale.
"5 year time skip doesn't make sense cause why would they keep in touch" not one of those kids, sans lexi, is getting out of that town. https://t.co/wZWBBWv0r6

— sk (@kirkxxs) April 8, 2023
Filming is currently yet to begin on Euphoria season 3 so we'll have to wait some time before we know what happens to Rue, Jules, Maddy, Nate, Cassie, Lexi and the rest of the cast and how the time jump affects them.
What do you think? Would you like to see Euphoria do a time jump?
Read more Euphoria news here:
ATEEZ Spill Their Secrets In 'The Tower Of Truth' | PopBuzz Meets