Carla Gugino explains Verna's deal in The Fall of the House of Usher ending
17 October 2023, 22:54 | Updated: 17 October 2023, 22:58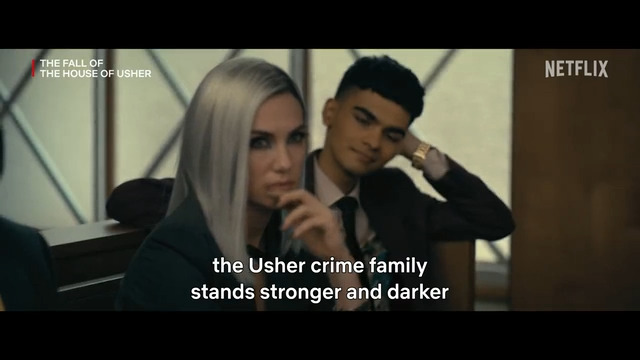 Watch the trailer for The Fall of the House of Usher
Why did Verna kill the Usher children? The Fall of the House of Usher's final episode explains why the siblings had to die.
Finished The Fall of the House of Usher and want to know Carla Gugino's thoughts and intentions behind that big Verna reveal in the final episode? You're in luck.
Over the course of 8 episodes, the mystery surrounding the Usher family and their connection to the shape-shifting Verna unfolds as viewers watch each of Roderick Usher's children die in a series of absolutely horrific deaths.
READ MORE: Who is Verna in Fall of the House of Usher? Her real identity explained
Early on in the show, we find out that a young Roderick and his twin sister Madeline Usher meet Verna on New Year's Eve in 1979, but it's not until the final episode that we find out what happened that night, and how it changed the course of their entire lives.
Carla Gugino, who plays Verna, has now explained the meaning behind the fateful deal that the mysterious figure made with the Ushers.
WARNING: Major spoilers ahead!
The Fall of the House of Usher ending: Verna's deal explained
During a flashback in episode 8, it's revealed that Roderick and Madeline murdered Rufus Griswold in order to finally take the pharmaceutical company back as their birthright.
At the New Year's Eve party, Madeline drugs him, seduces him, takes him down into the basement and handcuffs him to some pipes hidden behind a wall. They then fill the brick wall in, encasing him behind it and leave him for dead.
They leave the work party and head to another bar. There, they meet Verna, as we've seen in the previous flashbacks, and sit down with her at the end of the night for a drink.
Out of the blue, Verna then reveals that she knows they killed Rufus Griswold, how they did it, and she knows they're currently building an alibi. She then offers them a deal...
READ MORE: Who is Verna in Fall of the House of Usher? Her real identity explained
What is the deal Verna makes with Roderick and Madeline Usher?
Verna offers the siblings a life-changing deal. "What if I said I could guarantee you'll get away with [Rufus' murder]? And not just that. All of it. In good time, not a lot of time, you'll be elected CEO, Roderick, or Madeline, if you prefer. You'll be the king and queen of Fortunato. Your birthright."
Verna then offers "no legal consequences" for their entire lives, stating that they will never be convicted of a single crime.
She adds that they will be free to do whatever they want with the company – "be charitable, altruistic, or don't". They could achieve all the wealth, fame and success they've ever wanted.
Why does she offer them the deal? She simply says she just wants to see what they do with it.
READ MORE: Who is the informant in The Fall of the House of Usher? Their identity revealed
The price? Verna doesn't make Roderick and Madeline pay for anything. Instead, she suggest that the price is deferred: "Let the next generation foot the bill."
Verna then explains that Roderick and Madeline will live their lives to the fullest, and will only die when they would have died anyway. But, when their time comes, their entire bloodline will die just before them. On top of that, they will also have to die together, regardless of whether or not one goes naturally before the other.
Roderick (who is already a father at this point) and Madeline (who has no kids) selfishly agree to the deal, cementing a life of success, wealth, fame and luxury for the family, but ultimately condemning their children to a short life and, as we now know, a horrific death.
Over the years, Roderick and Madeline push Verna's deal out of their mind, not really believing any of it. When his children begin to die, he realises that the end of the Usher empire is upon him.
Verna wasn't the show's true villain...
Speaking to TUDUM prior to the actor's strike, Carla Gugino explained why Verna made the deal, explaining she had no real evil motives at all – it just boils down to karma. And the fate of the Ushers was just her completing her job.
"Often, people with a lot of privilege and a lot of power have an opportunity to do good things or to do bad things. Poe never really believed in God and the devil per se," she told the outlet.
"She's not even evil," she continued. "Verna is offering each of these people the most honest conversation they will ever have in their lives. She doesn't really care if they're good, they're bad, they're this, they're that."
"The amazing thing when you see that kind of shape-shifting is that there's an embodiment of something that can seem super radical or super intense, but what it comes back to always is this neutrality."
According to Carla, Verna is an executor of fate and karma.
Kylie Minogue vs. 'The Most Impossible Kylie Quiz' | PopBuzz Meets