10 Feelings You'll Only Understand If You Know That Jeff Atkins Deserved Better
A precious cinnamon roll.
13 Reasons Why's Jeff Atkins was a real fan favourite. As viewers of the show will tell you, he was PURE and sweet and without flaw. If his death hit you right in the feels, then these reactions will seem all too familiar.
1) That moment when you realized what happened to Jeff.
me when jeff died in 13rw#13ReasonsWhy #JusticeForJeff pic.twitter.com/24fmbRwv5h

— jas (@bandvocaI) April 6, 2017

2) And then you start thinking thoughts like this.
i hope jeff atkins and hannah baker are taking care of each other up there

— jamie (@dylanohollands) April 12, 2017

3) "I'm fine."

4) When you remember that people think Jeff was driving drunk.
JEFF ATKINS WAS A GOOD BOY AND A GOOD FRIEND WHO DID NOT DESERVE TO BE REMEMBERED AS A DRUNK DRIVER. HE DID NOTHING WRONG. pic.twitter.com/YdTImSJH5G

— Yane (@zacktayllors) April 2, 2017

5) And then it hits you.

6) When you think about the jocks at your school (trash) and then compare them to Jeff (a good boy).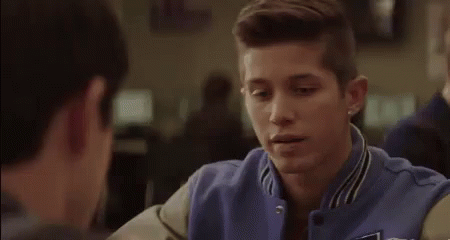 via tenor.co

7) *sails into the actual sun*
brandon larracuente the actor who played (jeff) thinks jeff atkins deserved better he's so cute
#13ReasonsWhy pic.twitter.com/XOiC4DVwYn

— vic's edits (@editsbyvic) April 8, 2017

8) AND A SENSE OF HUMOR TOO. MY GOD.
via tumblr

9) A little light math.
According to my calculations:

∆ = b² - 4 a c
-b± √∆
x1,8 = ————
2a

jeff atkins deserved better

— ㅤㅤㅤㅤㅤㅤ (@purposeofposey) April 11, 2017
10)
Pure ✓
Good ✓
Nice ✓
Innocent ✓
Unproblematic ✓
Good looking ✓
Arms ✓

via tumblr
____ ____ ____ ____ ____
Listen to the #PopBuzzPodcast with Chris Pratt and the rest of the Guardians Of The Galaxy Vol 2 cast right here or subscribe for free on iTunes to get new episodes sent straight to your phone every Friday.