64 Thoughts We ALL Had While Watching The "American Horror Story" Premiere
16 September 2016, 17:12 | Updated: 6 November 2017, 10:53
WHERE *claps* IS *claps* EVAN *claps* FKN *claps* PETERS?
Unless you've been living under a rock for the past few days, you'll know that American Horror Season Six finally dropped! If you haven't watched it yet, you're in luck because I watched it so you don't have to.
PRO TIP: Do NOT watch this episode in dark by yourself because you WILL sh*t yourself. I'm marking this down as the scariest season yet.
You ready? Let's hold hands and do this together. *SPOILERS AHEAD!*
1) IT IS TIME, PEOPLE! Man your battle stations, sound your alarms, charge your defibrillators. SEASON SIX IS HEREEE!
2) It feels like I've been waiting 12 years for this season to drop. Honestly.
3) Last minute predictions for the theme? ANYTHING BUT SPIDERS. PLEASE.
4) Ok... lay it on me, Ryan. Do your worst.
5) "The following story is inspired by true events." OH HELL NOooOOOooooOooOoooooooo!
via giphy.com
6) OH MY GOD IS THAT LILY RABES VOICE
7) It's actual Lily Rabe. She's back. I'm going to cry. I'm crying. Sobbing. *whispers* Don't kill her.
8) 30 seconds in and I've already had enough.
9) ROANOKE? ARE YOU KIDDING ME? WHAT HAPPENED TO THE ALIENS?
10) Ohhh, ok. Lana Winters and OJ Simpson. I ship it, I must confess.
FX / tumblr.com
11) OHHHHHHHHH - THEY'RE DOING FLASHBACKS! I get it now. This is gonna get messy reaaal fast, isnt it?
12) NOOO DON'T KILL OFF CUBA, WE'VE ONLY JUST BEGUN! Oh. He's fine.
13) No no no no. This just took a very tragic turn. Have I ever cried at AHS before? 'Cause bitch, I might. *sheds tear*
14) This is #MurderHouse 2.0 and I didn't F*CKING sign up for this.
15) However, if it comes with a new and improved Tate 2.0 then I'll consider it, I guess.
16) Actually, it's been 5 minutes and there's no sign of Evan Peters yet. I want a full refund.
17) "What's wrong with the property?" UMMMM, DO YOU HAVE EYES FAM?
18) Ok, you could literally pay for Lana Del Rey to sing at your funeral for the amount he just dropped for that scary ass house.
19) TITLE CARD! Time for th---- Um. Where's the theme song? WHAT THE?! How DARE you deny me of my traditional AHS theme song shimmy!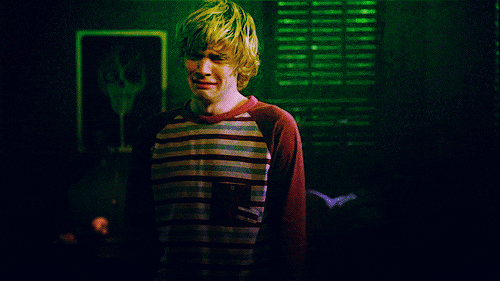 via giphy.com
20) Wowwwwwww, that house is VERY secluded - they're gonna die. And he just wasted all their money. They'll never be able to afford the Lana Del Rey funeral package now.
21) 8 minutes into AHS and Chill and there's someone's naked ass. Show me nudity so I know it's real, Ryan.
22) My question is: when someone knocks on ya door at 2am, what compels you to actually get up and investigate?! Did you not learn anything from last season?!
23) CUBA WHAT ARE YOU DOINGGGG???????? GET BACK IN BED.
24) Seriously. This is the scariest season of yet.
25) DON'T YOU DARE LEAVE SARAH PAULSON IN THAT HOUSE ALONE.
26) I'm... is it... raining... TEETH? WHAT. THE. FUH.
27) I already hate this season so much.
28) The only thing that would make this easier was if Evan Peters was by my side.
29) Sidenote: I think Sarah Paulson with long hair is now my religion. RT if u agree.

via giphy.com
30) OK NO. If there's going to be jump scares the entire way through this then I'm gonna turn it off, Ryan.
31) WTF WAS THAAAAAAAAAAAAAAAAAAAAAAAAAAAAAT?!
32) Do not walk towards that door, Sarah. DON'T DO IT.
33) Oh my god, she's doing it. She's doing it. She's really doing it. She did it. OMG NOOOO. Ok, there was nothing there.
34) JFC. I can't breathe.
35) WOULD YOU RATHER: Live in this bitch-ass house or spend a night babysitting Thaddeus from Murder House? 'Cause right now I would 100% pick Thaddeus.
36) Ok, now she's getting in the hot tub. ARE YOU MAD, SIS?! WHAT ARE YOU DOING? YOU'RE IN THE MIDDLE OF A DARK FOREST.
37) Nooooooooooooooooooooo. Noooooooooooooooo. I can't watch. OMFGGGGGG WTF.
38) Guys. I think... I *think*... it's time you packed up ya yoga mats and left this house.
39) *checks watch, takes deep breath* 20 minutes in and still no sign of Evan. Or Finn. Or Matt.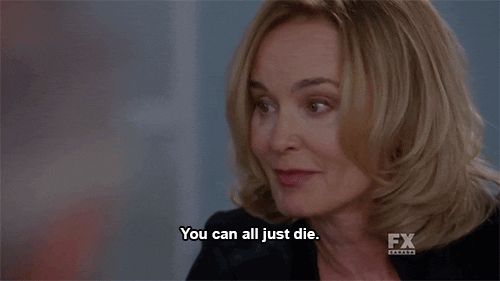 via giphy.com
40) Ohh, not another dead animal. I thought we had got that out of our system back in Coven, guys!
41) ANGELA BASSETT KLAXONNNNNNNNNNNNNNNNNN!!!!!!!
42) Is it me or has half of this episode just been Sarah Paulson cutting vegetables?
43) American Horror Story: Whole Foods
44) Oh god, the music has changed. The carrots are gone. WHERE ARE THE CARROTS? WHY IS THERE A KNIFE IN THE STEAK?!
45) Oh, it's just Angela Bassett. Girl, you had me shook for a second there.
46) "My brother married one jumpy bitch." GURRRRRRRRRRRRRRRRRRLLLLLLLL!
47) If this season was just Sarah Paulson and Angela Bassett arguing then that would be ok.
48) OH NO. SCARY PEOPLE WITH PITCH FORKS AND TORCHES. IT'S LIT!
49) Is anyone gonna answer that *damn* phone?!
50) OMGGGGGGGGGGGGGGG
51) NOOOOOOOOOOOOOO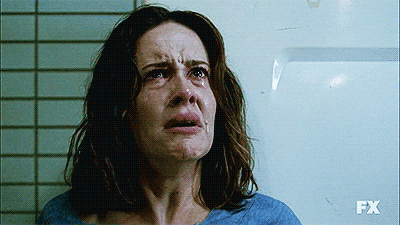 via giphy.com
52) You know... I'm scared but it's pretty obvious everyone survives this nightmare because they're literally sitting there telling us the damn story.
53) Gurl, do NOT go down those stairs... what are you doing?!
54) What is going on? OMG IS THAT A MAN WEARING A PIGS HEAD?!
55) That was Evan Peters wasn't it. It definitely was. I'm telling you. Classic Evan Peters sh*t right there.
56) HOOOOOOOOOOOOOOOOLYYY SH*T
57) What kind of Blair Witch mess is happening right now? I didn't like that film when it came out and I don't like it now.
58) Yes, yes, yes, get in the car and run Sarah. Run towards that Emmy. Run towards those Golden Glob-WHAT WAS THAT?!
59) SHE JUST RAN OVER KATHY BATES.
via giphy.com
60) If Sarah Paulson hit me with her car, I would literally get up and say thank you afterwards.
61) Don't get out of the car, what are you doing? DON'T GO INTO THAT FOREST. FFS.
62) Excuse me sir, but... is the ground... BREATHING?
63) WHAT THE SWEET LORD IS HAPPENING?!
64) OMG IT'S OVER. I'll never be able to sleep again. CONSIDER ME SHOOK.
via giphy.com