Is Amy Schumer The Real Life Liz Lemon?
1 December 2015, 17:43 | Updated: 8 May 2017, 17:09
Living for it.
Amy Schumer has been our life coach for some time now. Between demolishing gender roles, fighting for women in comedy, being a badass body-posi advocate and repping for hot messes the world over, we didn't think she could fit much more in her day.

But this week, she officially achieved peak internet by featuring in Purelli's Strong And Inspirational calendar, shot by Anny Leibovitz. Maybe you've never heard of it?
That's probably because in previous years, the calendar has only featured models of the ultra slim body type. This year, Pirelli went in a different direction, using Schumer, Serena Williams and Tavi Gevinson, among other badass trendsetting ladies. Serena and Amy were the only ones, who opted for nude or nearly nude shots.

Watching the video footage, we couldn't help but be reminded of another fierce (if fictional) enemy of the patriarchy.

Now we're not trying to imply that Amy is anywhere near as ridiculous as our Tina Fey's iconic Liz Lemon character. Clearly Liz was an exaggeration on a stereotype with - just guessing here - a lot of Tina Fey's actual personality thrown in.
Let's review though. Liz Lemon was an exaggerated, lol-worthy, workaholic hot mess.
Does that sound to you like anyone else's on screen character?

Now, ok, I'll admit that Amy does have that whole "hot mess" image to maintain, while Liz was a little...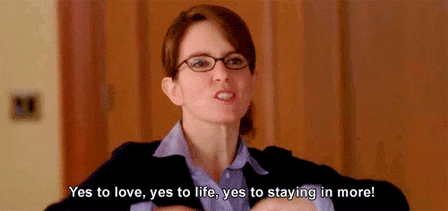 But aren't they really two sides of the same coin? A coin I like to call "women can do whatever the f**k they want and be funny as hell doing it." ... The title is a work in progress.
What do you think?