Everyone Is Freaking Out About How Hot Archie From "Riverdale" Is And TBH, Same
23 February 2017, 15:21 | Updated: 8 May 2017, 17:09
WARNING: This is article is a thirst trap.
Hello and welcome. We've gathered you all here today to talk about The CW's brand new show, and now PopBuzz favourite, Riverdale. Everyone's talking about it. From how problematic Ms Grundy is to Cole Sprouse's personal mission make Jughead asexual again, it's gonna be the biggest teen drama since Gossip Girl. Mark our words.
Despite the wild storylines and murder mystery aspect of the show, all anyone seems to be obsessing over is the fact that Archie got HOT. Yah, the freckly, ginger boy in the Comic book series got a glo-up and nobody can handle it.
But before we talk about Archie's new look, let's talk about and get to know the brilliant actor who plays him.
His name is KJ Apa. The K stands for
Keneti and the J stands for James.
And he's 19 years old. (His birthday is on 16 June 1997... He's actually younger than Toy Story.)
He's originally from New Zealand and is one half Samoan.
SPOILER ALERT: He's not a real ginger. He dyed his hair for Riverdale and it took almost 10 hours in the salon to achieve the spicy hue.
Riverdale is his first major US acting role. He was previously a series regular on a New Zealand soap called Shortland Street.
Just like Archie, he's a pretty talented musician too. He can play guitar and piano.
He's got a tattoo on his right shoulder in honour of his father's Samoan heritage.
And he's a lover of animals. We love him already.
Anyway, back to Archie. If you've ever read or seen or simply laid your eyes on the original illustrations from the Archie Comics, you'll know that Archie wasn't originally a regulation hottie.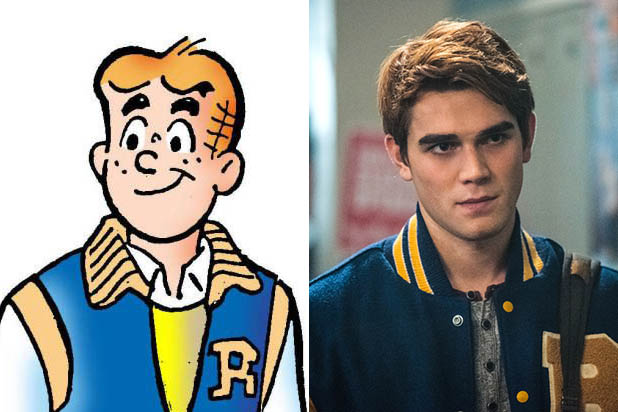 via The Wrap
So imagine everyone's surprise when he showed up looking ripped and sweaty with luscious ginger locks and abs that you can grate a block of cheese on. Everyone is shook and confused and we're only on Episode 4...
ARCHIE IS SO HOT WTF

— m a l a k (@shumsende) February 13, 2017
you: "Archie is not even that hot"
me, an intellectual: i beg to differ #Riverdale #RiverdalePL pic.twitter.com/zepcGJZawY

— (peppe)roni (@certainhowell) February 12, 2017
Archie is too much for me, he's so hot omg #Riverdale

— marco (@dustpills) February 19, 2017
Why is Archie so hot

— Caleigh McMillan (@CaleighMcmillan) February 17, 2017
archie is HOT what the hell

— éloïse (@eloisedeg) February 11, 2017
"Justin Gingerlake" I cannot deal with hot Archie, he's supposed to be all freckly and clumsy! #Riverdale pic.twitter.com/jEO3WEJMjB

— AC (@Ayceedoodles) February 8, 2017
Just finished watching the pilot of Riverdale. I feel weird about it. Archie here is hot and perfect, but I want a goofy, relatable Archie. pic.twitter.com/VU67rj24yO

— Clay (@alalaumbaga) February 6, 2017
Riverdale's first mistake was casting a hot guy as Archie. It would have been way funnier if he looked exactly he does in the comics

— your pal ched (@royalpizzaboy) February 13, 2017

To be honest, there's more to Riverdale than 'Hot Archie' and we shouldn't objectify him like that rat Ms Grundy but... *smirk emoji*