Black Panther Is The Movie I Desperately Needed As A Black Teenager
14 February 2018, 17:56 | Updated: 16 February 2018, 18:51
For so many, 'Black Panther' is much more than a superhero film.
Black Panther's theatrical release feels personal. With its multinational, supremely talented, and majority black cast, Marvel's latest is like a black nerd's ultimate fan casting of on-screen talent.
For dark-skinned women like myself, the film's elevation of the black female warrior and intellectual class is something that would have been difficult to imagine coming out of the Marvel machine even a decade ago. Inevitably, white audiences will also enjoy the film (they should, it's great), but Black Panther has marked a change in what I now see as possible in this genre.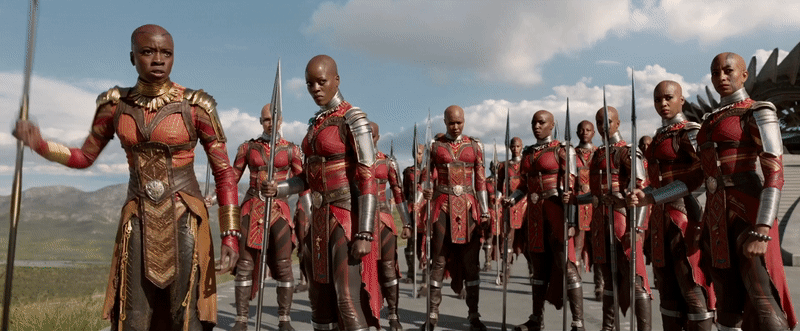 via Marvel Studios/Black Panther
For much of my life, I've understood that black women tend to be celebrated more if they look like Vanessa Williams or Halle Berry. So, when Lupita Nyong'o, Danai Gurira, and Letitia Wright all signed on to the project, it became apparent that Ryan Coogler was not working on a racially ambiguous film to make audiences feel more comfortable.
From their hair to their clothes, and all the details in between, we are supposed to understand that these characters are not just black, but African as well. So much of the banter and formal attire felt familiar for me, as the child of African immigrant parents.
via Marvel Studios/Black Panther
Shuri, Okoye, Ramonda, and Nakia offer different lenses of black feminine power and agency that many audiences will likely not have seen before. A black queen, genius scientist, army general, and spy. How often are black women permitted to occupy these roles in film and television?
For many black women, self-love is not innate. It's a learned behaviour preceded by the slow and steady erasure of internalised racism and colourism. When I say that Black Panther would have gone a long way for me as a kid, I really really mean that. This is the film I would have loved to see as a teenager.
Marvel Studios brought to life a story where the most technologically advanced nation on earth is located in Africa. They brought to life a story where a black princess is also a genius scientist who tinkers with gear that would put Tony Stark's toys to shame. Marvel curated a reality where Wakandans own Vibranium, a highly precious metal that hasn't been pillaged by centuries of colonizers.
Now, look me in the eye and tell me anyone would have been interested in making such a film twenty years ago.
via Marvel Studios/Black Panther
Black Panther is important because representation is important. It's not just important for children, either. It's important for young women, like myself, who have always been interested in this genre and could never quite understand why none of the heroes looked like them.
The film's story and adventures are thrilling in their own right. Kendrick Lamar even curated a black AF soundtrack to accompany the film. Seeing Black Panther during Black History month feels like opening a present you never knew you wanted this badly. "Wakanda Forever" isn't just a rallying cry or a quote from the film, it's my new daily mantra.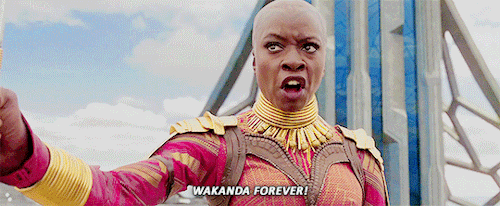 via Marvel Studios/Black Panther