13 Reasons Why Bob The Drag Queen Is The ONLY Possible Winner Of Drag Race
5 May 2016, 12:18 | Updated: 18 January 2018, 13:48
Let the best woman win!
Before the latest season of RuPaul's Drag Race had even begun, Bob the Drag Queen had already marked herself out as a serious contender with just one picture.
The colours, the hair, the pearls...EVERYTHING. Slay me, Bob.
From very early on, it was clear Bob had all the other queens running scared.
sixfiguresgettingsick.tumblr
The past winners need to watch out tbqh...
nakamorijuan.tumblr
Bob was responsible for the most memorable catch phrase of the season...
"Walk into the room purse first!"
And she has been an unstoppable force of humour, style and shade on every episode.
And who has won the most challenges out of all the remaining queens?
Yaaaasss queen.
She's got charisma.
Uniqueness.
Nerve.
bradenthevampireslayer.tumblr
Talent.
purse-first.tumblr
And for all the talk of 'growth' and 'journey' with Kim Chi and Naomi, that pales in comparison to the star power that Bob possesses.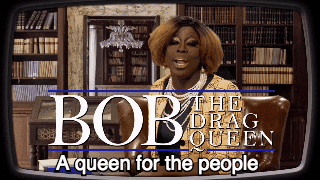 After last year's disappointing choice of winner (#JusticeForPearl) we are GAGGING for Bob to win. C'mon Ru, don't f*ck it up!
homosexual-supervillain.tumblr
#TeamBob
ohxoz.tumblr