7 YA Books That Really Need Their Own TV Show
15 November 2016, 14:18 | Updated: 8 May 2017, 17:09
Netflix and Chapters.
Reading is great and everything but wouldn't it be even better if those pages came to life before your eyes? Like, on our computer screen via a Netflix account?
With the upcoming adaptation of A Series Of Unfortunate Events coming to screens early next year, we've rounded up a few more of our fave books that NEED to make it on to TV for our binge watching pleasure.
1) The Amazing Adventures Of Kavalier & Clay
Michael Chabon
With several starry adaptations having been rumoured for years, Michael Chabon's Pulitzer Prize winning tale of superheros, magic, gay love and escaping World War II is so epic that it practically demands to be put on screen! Chabon has had a few different projects in development at HBO so how about we add this classic into the pile of scripts? Also, full disclosure, this is my favourite book of all time!
2) His Dark Materials
Phillip Pullman
Thankfully, this one is actually already being made! After the somewhat underwhelming movie version entitled The Golden Compass, Philip Pullman's trilogy focusing on the fantasy-inspired world of Lyra and Will is coming soon to the BBC, potentially arriving on screen at the end of 2017. And the novels are certainly in safe hands - they are being adapted by Jack Thorne, the man behind stage sensation Harry Potter & The Cursed Child.
3) Kids Of Appetite
The latest from David Arnold, the man behind the critically beloved Mosquito, this tale of a group of teenage outsiders dealing with love and loss while unravelling a murder mystery in New Jersey could easily become the next Stranger Things. Plus it includes "two songs about flowers". Which is nice.
David Arnold
4) Belinda Blinked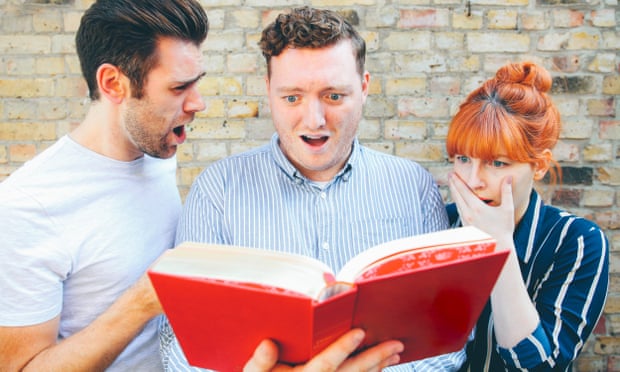 My Dad Wrote A Porno
Millions have heard the erotic tales of Belinda via the hit podcast "My Dad Wrote A Porno" and, as Jamie Morton told us, there are wheels in motion to bring this filthy story to the stage as well as the screen. How about a TV show where the guys Jamie, James & Alice pop up on a smaller screen in the corner to give a running commentary as we go? That's what was missing in 50 Shades!
5) The Witchlands
Susan Dennardo
It's a simple magical power but a highly effective one - the ability to tell truth from a lie! Sadly, Safiya must hide her ability to avoid death in this fantasy war tale of magical worlds from the creator of the Something Strange And Deadly series. Give this one a huge Game Of Thrones style budget to work with.
6) Tracked
Jenny Martin
A sci-fi Fast And The Furious with a strong female lead, compelling love story and a search for a missing father, Jenny Martin's highly successful novel has already spawned the sequel, Marked. Catch up now before she finishes work on a third part.
7) Scott Pilgrim
Bryan Lee O'Malley
Again, this has already had the big screen treatment via Edgar Wright's excellent Michael Cera-starring motion picture from 2010. But how can you cover a six-part graphic novel series in one movie? Time to go even more in depth we reckon with a full season of adventures. The original film cast can all come back too if they wish.
Got your own fave reads you want to see on screen? Let us know below.
___ ___ ___ ___ ___
Subscribe to the #PopBuzzPodcast for free on iTunes to get new episodes sent straight to your phone every Wednesday.