Why James Corden's "Carpool Karaoke" Needs To Put On The Brakes
17 February 2016, 13:51 | Updated: 8 May 2017, 17:09
Let's put this in reverse.
Another day, another video of professionally "cheeky" man-child James Corden cruising the streets of Hollywood with a famous friend in tow.
Instagram
How can he drive safely with all those cameras in front of his eyes?
This time it's Sia, the elusive wig-bothering songstress who has not only carved out a very solid solo career but also written hits for every half-decent pop star of the last decade.
Over the course of their 11 minute journey to nowhere, they blast through "Chandelier", Rihanna's "Diamonds", "Titanium" and a couple of other tunes from her extensive discography.
As per the formula, Corden then proceeds to whip the incessantly whooping studio audience into a frenzy with his aggressive R'n'B riffing and carefully choreographed casual dance moves, grinning directly into the camera lens like a precocious teenager at a school talent show.
PopBuzz
His companion meanwhile politely plays the "cool mom" role, bopping on the sidelines until her performing child tires himself out and she can slip away for a quiet bath while he calms down with a juice box and a power nap.
And yet, somehow, it works - a similar clip with Adele recently became the most watched online clip ever produced by a late night comedy show with well over 70m views at the time of writing.
Corden has previously tried to sum up the appeal of these viral hits, putting it down to seeing the singers in an unfamiliar situation.
There's an ease and an intimacy to it where you'd never ever see stars quite so unguarded. I'm different from when I'm doing the show when there's an audience of 200. Seeing a huge megastar sing their hits in the same environment that you and I sing on our way to work — it's humanizing.

James Corden, Entertainment Weekly
Very true - there is something undeniably appealing about seeing these (often elusive) singers in new territory, away from the bright studio lights and the safety of a mic stand.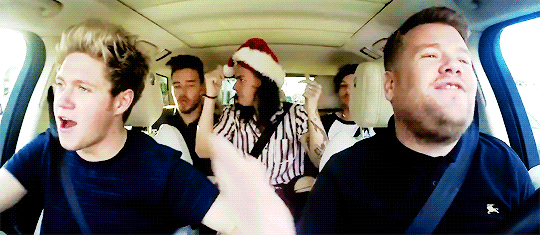 GONNALIVEFOREVER.TUMBLR.COM
But is the current endless barrage of chummy celebrity commuting putting the format at risk? The last two weeks alone have seen five of these videos unleashed on the world, featuring a mix of legends like Sir Elton, newcomers like a pre-Super Bowl Chris Martin and old favourites like formerly problematic pop bopper Bieber, now on his third time around the block.
CBS/YouTube
All have, of course, had millions of eyeballs transfixed worldwide. But the more the style is repeated, the further it is watered down and that special surprising quality of the original seems further and further away. Is the sight of a famous face in an unfamiliar environment still going to be as entertaining if these videos are mass produced at such a rate that the audience can pre-empt their structure?
CBS/YouTube
Furthermore, how far can the idea go? All guests up to this point have been global megastars or heritage acts with devoted followings, relying, at least partly, on an audience knowledge of their back catalogue. Once all the stars of that calibre have been suitably chauffeured across California, where does the show go next? Would the idea still work with newer acts in the passenger seat? Of course, there are still many suitable acts left in the world before the programme reaches breaking point, but, if they maintain the current output rate and calibre of artist, that point may arrive a lot sooner than they had anticipated.
CBS/YouTube
Plus, there is already a very similar sounding new show in development, entitled Caraoke Showdown, hosted by Craig Robinson with the added appeal of throwing members of the public next to the celebs and getting them to play for cash. This show may well crash and burn (Yeah! Puns! *high-fives everyone in the room*) but the fact that it has even made it to pilot stage ensures that others will follow and, before you know it, Corden's musical car won't be the only one on the scene.
So, James, if you are reading this, may I politely suggest that perhaps it is time to pause the music, rest your larynx and put the car in the garage, at least for a little while. Your idea has undoubtedly worked a treat but, much like UK TV series, sometimes less is more. Leave us eager and excited to see the next instalment, not merely view it as part of our morning routine in a zombie-esque muscle memory ritual while we check our emails and eat our cornflakes. Rely on some of your more underused yet equally inventive segments like "Take A Break". Then, when the next automobile-based singalong rolls around, we will appreciate it all the more.
We're sure it will be worth the wait.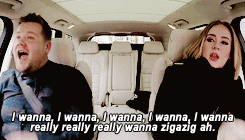 CALZONA.TUMBLR.COM